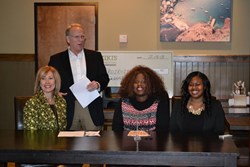 Little Rock, AR (PRWEB) December 14, 2013
Taziki's Mediterranean Café announced the winners of the company's first Pay It Forward sweepstakes Friday at the restaurant on Chenal Parkway in Little Rock.
Akissi Brooks-Hill, founder of ABH Projects, Inc., was presented $1,000 for her charity that focuses on empowering teenage girls through education based on her "BE Smart! BE Safe! BE Responsible!" platform.
For making the winning nomination, Jennifer Black, a Little Rock-area actress and motivational speaker, was awarded a vacation package for four. The package includes airfare to Orlando, Fla., from Southwest Airlines; a four-day stay at the Hard Rock Hotel there; passes to an Orlando theme park and $400 spending cash.
Jim Keet, president of Taziki's, Inc., said more than 100 worthy charities were nominated from across the southeast where Taziki's are located. The winner was then chosen randomly from a group of outstanding finalists by a representative from Coca-Cola who co-sponsored the program.
"We're proud to announce ABH Projects and Jennifer Black as the winners of our first Pay It Forward initiative," Keet said. "Mrs. Brooks-Hill's work with those young ladies is extraordinar, and we are excited that we are able to help her with her mission. We're also proud to orchestrate a vacation for a deserving family in concert with Coca Cola. We hope this Pay It Forward program will inspire others to get involved with worthy organizations and individuals who make a difference."
Brooks said she launched her Girl Talk program after witnessing a high teen pregnancy rate in her hometown of Forrest City. The program operates in Little Rock today.
"I wish I could've brought some of my girls with me, but they're in school and their education comes first," she said. "I am so grateful. People like you all help us grow."
A teary-eyed Jennifer Black said when she learned of the sweepstakes, she knew instantly who she wanted to nominate.
"I'm amazed by her spirit. She's very passionate about helping people. I've wanted to do something nice for her a long time this is a chance to do that," she said. Black said her young nieces and nephew recently lost their paternal grandparents, and she plans to take them on the vacation to help raise their spirits.
"Winning this vacation was like an answer to prayers," she said.