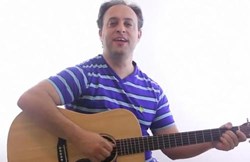 (PRWEB) December 14, 2013
In this guitar lesson, now available on YouTube.com, Claude Johnson teaches sus chords (suspended chords) and / chords (slash chords) in the style of the rock band Oasis.
A suspended or sus chord is when the third of the triad is omitted and replaced with another note from the scale, such as Csus2 where the third is replaced with the second or csus4 where the third is replaced by the fourth. A slash chord or / chord is when the root note is not the lowest pitched note played in the chord and is replaced by another note in the key, an example would be D/F#, the D triad consists of D-A-F# and by making the F# the lowest note you get D/F#, pronounced D over F#.
In this acoustic guitar lesson Claude teaches the song Champaign Supernova by Oasis. The first chord in the progression is Asus2 which Johnson demonstrates in the open position by playing the second fret of the fourth string with his second finger and the second fret of the third string with his third finger and strumming the first five strings. The second chord is Asus2/G, which is played by simply adding the third fret of the 6th string with your fourth finger. Next is Asus2/F#, again same original chord, but this time you fret the 2nd fret of the 6th string with your thumb. Finally the last chord is Asus2/E which is simply playing the original chord, but strumming all 6 strings, with the 6th string being played open. For all of this and more, head on over to GuitarControl.com/beginner.
Oasis was an English rock band from Manchester, formed in 1991. In 1993 they released their debut album and released a total of 7 albums until they disbanded in 2009 after numerous lineup changes. They have had 3 Grammy nominations and have sold over 70 million records world wide.
Claude Johnson
Claude Johnson, a native of Philadelphia PA, began playing guitar in 1990 after being inspired by players like Jimi Hendrix, Eric Clapton, and Stevie Ray Vaughn. He is the creator of GuitarControl.com and has helped 1000's of people to learn to play the guitar with his critically acclaimed instructional DVD courses, all available at GuitarControl.com
About GuitarControl.com
GuitarControl.com is the leader in modern guitar instruction. It's packed with recourses including articles, video lessons, and the best videos in the business for the beginner to the advanced guitar student taught by the best instructors out there. Weather you are into the blues, rock, jazz, metal, folk, or anything in between, they have you covered.