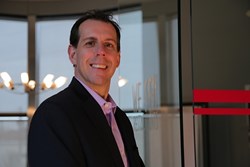 The term "Restaurant Broker" may have been unfamiliar to many until launch of recent TV shows like Risky Listings and Bar Hunter.
Atlanta, Geogia (PRWEB) December 16, 2013
Eric Gagnon has been named a Life Member of the GABB Million Dollar Club in recognition of his annual achievements from 2008 through 2013. Gagnon is nationally known for his expertise in the sale of restaurants. He is the founder of We Sell Restaurants, the nation's premiere restaurant broker firm.
His most recent GABB million dollar award for the sale of restaurants was not a surprise since, according to Eric, "There is tremendous opportunity in this industry. The term "Restaurant Broker" may have been unfamiliar to many until launch of recent TV shows like Risky Listings and Bar Hunter. However, twenty percent of all businesses are on the market at any given time. That demand is one reason we're now franchising our restaurant broker concept nationwide."
Eric is a frequent writer and speaker to the industry and co-authored Appetite for Acquisition, an award winning book on restaurant brokerage named "Best of 2012" by Small Business Book Awards. His articles appear in print for Today's Restaurant News and he has been featured in The Restaurant Finance Monitor. Eric and his wife, Robin, co-host the nation's only radio show dedicated to the restaurant industry.
The We Sell Restaurants radio show, broadcast from the nation's seventh largest media market and available nationwide on iTunes is designed to "satisfy an appetite for acquisition, feed the need for restaurant reality and serve up a recipe for business success." The weekly broadcast features top tier restaurant authorities ranging from restaurant CEO's to celebrity chefs. Recent guests include: Steve Caldeira, President of the International Franchise Association, Bret Thorn, Senior Food Editor of Nation's Restaurant News and Emily Ellyn from Food Network appearances on "Cupcake Wars" and "The Next Food Network Star."
Eric is Past President of the Georgia Association of Business Brokers as well as a Lifetime Member of the Million Dollar Club. An Executive Board Member for many years, he held terms as President (2011), Vice President (2010), Secretary (2007) and Treasurer (2009/2008). GABB is a professional membership organization committed to professionalism in the business brokerage industry. Their members relentlessly pursue professional development so they can render superior, ethical services for all customers and clients.
In addition to the GABB, Eric is a member of the International Business Brokers Association (IBBA) and has served as a speaker at their national meeting. He is also a member of the Business Brokers of Florida (BBF), the Southeast Franchise Forum (SEFF) and the International Franchise Association (IFA). Eric is licensed as a Broker in Georgia, South Carolina and Florida.
About We Sell Restaurants
We Sell Restaurants is the nation's largest restaurant brokerage franchise. They currently have offices in Georgia, Florida, Tennessee, Colorado and South Carolina and are accepting franchise applications in select markets nationwide. Franchise inquiries may be directed to their website, wesellrestaurants.com.