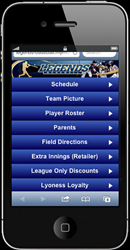 The team mobile app is an invaluable communication and fundraising solution for all youth sports teams and organizations.
Wakefield, MA (PRWEB) December 23, 2013
Code2action was invited to make four presentation to thousands of attendees at the 2014 World Baseball Coaches Convention Baseball Convention that runs Jan 9-11, 2014 at the Mohegan Sun Resort and Casino.
A demo video detailing Code2Action's mobile team app will be displayed on various kiosks throughout the event Youth Baseball Team Mobile App VIDEO DEMO.
Team mobile apps will link team schedules, rosters, field directions, player and parent contact details, team photos, statistics and league standings as well as additional buttons for sports retailers, local fundraising and national sponsors. Sports organizations will now have an effective communication and social tool for team managers, coaches, players and parents. The app will enable organizations to increase their revenue by text blasting registration and order pages to fill instructional camps, clinics and team apparel. The team apps will include a sponsor page for team fundraising and local business advertising. The app will include an additional button that can connect a local sports retailer, in house pro shop or a national brand sponsor.
A welcome package will include a brochure for all attendees detailing all of the benefits and features of Code2Action's youth baseball and softball team mobile apps. The published price for the app is $299 with a show special price of $225 per team.
Additionally, an extensive email marketing campaign will commence days prior to the event to every registered attendee and participating organization promoting the youth team mobile apps.
There are representatives from over 1,500 organizations that will be in attendance. Most organizations have an average of 20-30 teams ranging from ages 9-16 with multiple teams per age group.
It is estimated that there are over 160,000 AAU youth baseball teams and 80,000 ASA softball teams which does not include other leagues such as Little League, American Legion Baseball and NSA softball. Baseball and softball are the first of many youth sports that Code2Action plans to market to in 2014 and beyond.
Code2Action is offering a direct investment to accredited investors only in accordance with SEC Rule Reg D 506 (C). Text the word INVESTOR to 71441 for investment placement documents, or click this link INVESTOR VIDEO PRESENTATION and enter your mobile number and email in the included fields.
About Code2Action:
Code2Action Inc. "C2A" has developed a subscription based, in the cloud, multi-media mobile solution for all size businesses in practically every industry.
C2A's mobile platform enables businesses of all sizes to easily incorporate high-definition audio and video into all forms of traditional and social media campaigns using custom branded QRV codes (quick response video) and SMS/Text keyword/short code combinations.
C2A enables businesses to create unique customized personal audio and video advertisements, commercials, podcasts and presentations that are accessible via smart phones worldwide. Similar to a traditional email campaign, C2A clients build an "OPT IN" database through either QR scanning or SMS/Text. C2A's closed end hosted video platform and software sequencing allows a redirect upon completion of video with a custom CALL-TO-ACTION page that will direct clients' customers to desired "actions" based upon the businesses' unique requirements. Typical actions would include: "purchase product or service," "download a discount coupon", "request a quote", "make an appointment, reservation or donation", "get directions or contact information", "see customer reviews and testimonials", "go to our website" or "go to any social media such as Facebook and Twitter". C2A also has the ability to redirect to a custom mobile website which C2A designs and creates where the end user has the ability to save to their smart phone as an APP to their home screen.
The platform sequence enables businesses to engage the viewer with a customized audio/ video message and drive the potential customer to a call to action page to transact. Every OPT-IN added to the customer's database can now be reached back via text/SMS with future deals, sales, mobile coupons, text-to-win campaigns, reminders, events and offers, thereby increasing business and profitability.
PRESS CONTACT:
Chistopher Esposito
(978) 335-4066
chris(at)code2action(dot)com
Text CHRISE to 71441 for mobile business card.