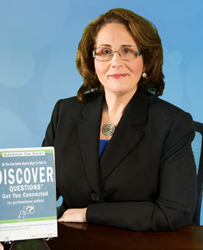 San Jose, CA (PRWEB) January 05, 2014
Deb Calvert, founder and president of San Francisco Bay Area based People First Productivity Solutions, will be interviewed during the January 8 Smallbusinesstalent.com® podcast. Calvert will talk with host Steven H. Lahey, founder of Smallbusinesstalent.com and Lahey Consulting.
Calvert founded People First Productivity Solutions, dedicated to "building organizational strength by putting people first," in 2006. Since then, she has developed successful training programs for a wide variety of companies, founded the CONNECT! Community of social media, newsletters, webinars and more, and written "DISCOVER Questions™ Get You Connected for Professional Sellers," a finalist for Sales & Marketing Book of 2013.
The podcast, which will be made available for listeners no later than 9:00 am PST on January 8, will showcase Calvert's method described in her book and will detail how the eight purposes for asking questions can help small business owners and entrepreneurs. Deb will share the story behind her research and how DISCOVER Questions™ were developed.
The Smallbusinesstalent.com podcast offers "practical advice and useful sales and marketing content delivered straight to your inbox." Each episode features candid, informative conversations with credible sales / marketing experts and entrepreneurs — people with years of hands-on experience building healthy businesses with strong sales and marketing results. The podcast is hosted by Stephen Lahey and has been published on a weekly basis since January of 2013.
Lahey is an entrepreneur who has been self-employed since 2000. He founded two companies, Lahey Consulting, an executive search firm and HR consultancy serving consumer products companies throughout the USA, and SmallBusinessTalent.com, providing sales and marketing guidance to self-employed professionals worldwide.
The podcast can be downloaded from Smallbusinesstalent.com. Those who wish to purchase Calvert's book can find it on her website or on Amazon.com