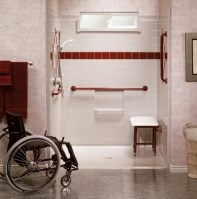 " We received our shipment in days and couldn't be happier with our need it now handicapped shower package " Proud customer Mr.Theodore Gross
Vancouver,Bc (PRWEB) January 15, 2014
Orca HealthCare, a Vancouver based Walk-in Bathtub and Handicap Shower company, is proud to announce the release of its Need-it-Now wheelchair accessible and low-threshold shower packages that are offered in 28 different sizes and configurations to meet most bathroom renovation requirements.
Modifying a bathroom into a safe bathing area can sometimes be a daunting and stressful project, especially when a loved one is depending on the modification to be able to return home from a hospital or rehabilitation centre. There are so many factors to consider now that the simple act of bathing becomes one of the most challenging tasks of that persons day.
Need-it-Now Shower Packages are a perfect solution when converting a standard bathroom into a stress-free and safe bathing environment. Showers are made of a luxurious gel coat fibreglass and have full plywood backing in the walls. Floor pans do not require mud setting and multi-piece shower walls contain innovative leak proof joints that allow for trouble-free installations. Accessories include a handheld showerhead, grab bars, a fold-up shower chair, curtain rods and brackets, a heavy weighted vinyl shower curtain, and a WaterStopper.
Orca Health Care understands how important it is for people, who are faced with new health or physical challenges, to be able to bathe independently in a comfortable and safe environment.
Please visit us at http://www.orcahealthcare.com for more information or call us at 1-888-761-9451.
A customer representative would be happy to assist.
Sincerely,
Orca Health Care
info@orcahealthcare.com
http://www.orcahealthcare.com