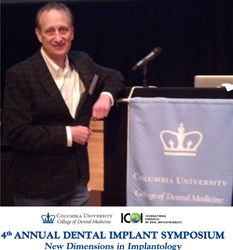 This is a welcome opportunity to learn from the most prominent professors of Implantology in the world. - Dr Korwin said
Red Bank, NJ (PRWEB) December 17, 2013
The 4th Annual ICOI symposium featured 12 international speakers from Hungary, Italy, Israel, England, Germany, Portugal, Spain, and the United States. About 250 attendees arrived from the US and from around the world to attend this event which featured multimedia presentations of the newest Implantology and surgical techniques to restore the form and function of the oral cavity with faster, more effective and simplified methods.
Presentations included Restoration of Failing Teeth, Ridge Augmentation, Full Arch Implant Rehabilitation, Esthetic Surgery in the Anterior Zone, Immediate Loading, CAD/CAM and Digital Dentistry, Sinus Augmentation among other artfully presented and scientifically researched studies.
Each presenter had the opportunity to answer questions about his research and techniques from the attendees who asked very detailed questions, and received thoughtful and informative replies in return.
Interest was very high with attendees staying until the last minute in spite of the heavy snowfall which blanketed the upper west side of Manhattan during the Saturday presentations.
The sessions were introduced by Dr Kenneth W.M. Judy Co-Chairman of the ICOI, and moderated by Dr Dennis P. Tarnow, Scientific Chairman ICOI and Professor and Director of Implant Education, College of Dental Medicine, Columbia University.
Dr Korwin routinely restores missing teeth with dental implants and applies the latest scientific concepts of oral rehabilitation and surgery for the benefit of his patients. In reference to the Symposium, Dr Korwin said "This is a welcome opportunity to learn from the most prominent professors of Implantology in the world."
The ICOI presents the latest in research at twice annual symposia, and publishes one of the worlds most respected peer reviewed journals of Implantology.
Robert Korwin DMD MICOI MAGD, Advanced Dentistry with a Gentle Touch
562 State Route 35 Union Square Office Commons
Red Bank, NJ 07701 732-219-8900 http://www.drkorwin.com http://www.centerforlatexallergydentistry.com
http://www.flossingforlife.com, http://www.calmistry.com, http://www.skeletalsandbox.com
Dr. Robert Korwin is a renowned general dentist, teacher and innovator practicing in Middletown/Red Bank, NJ. With extensive academic, clinical and didactic training, he is one of only .01% of dentists worldwide who have dual Mastership awards from The Academy of General Dentistry and The International College of Oral Implantologists. Dr. Korwin promotes excellence in preventing orally linked disease and provides highly cosmetic dental repair and reconstruction utilizing orthodontics, implants, surgery, prosthetics and sedation, with laser, digital and computer assisted diagnostics. Dr Korwin maintains latex safe, mercury safe, perfume and fragrance free dental practice.