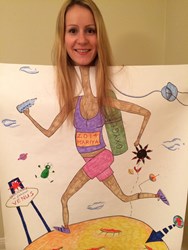 On January 1, 2013 the Moon Joggers took off on their first expedition – the moon. On May 23, 2013 they made their first landing on the moon and are now back home. On January 1, 2014 they will blast off on a new mission; a Voyage to Venus.
McKinney, TX (PRWEB) December 17, 2013
In December 2012, Angie Webb challenged her sister, Ashley, to see which of the two of them would be the first to run 1,000 miles in the year 2013. The challenge turned into recruiting enough friends and family to join them on a trip to the moon, but it blew up into even more. Moon Joggers became their name and the challenge spread across the world.
In a matter of a month the group went from a handful of runners to more than 1,400 runners in 40 countries. On May 23, 2013 Moon Joggers made their first successful "moon landing" by completing 238,857 miles. Along the way they managed to raise more than $3,500 for charity* through several virtual runs. After making a few laps around the moon, Moon Joggers have now landed back on earth and are gearing up for their next adventure: Venus.
On top of running the approximately 25 million miles to Venus (the distance varies between earth and Venus and 25 million miles about the closest the two planets get), Moon Joggers hopes to raise $50,000 for the Little Heroes Foundation, a nonprofit whose mission is to improve the mental and physical well-being of children throughout the world. They also plan to raise funds for other people and/or charities in need, through six virtual races that will be held in 2014.
The journey of 25 million miles means that Moon Joggers is going to need a lot more runners to help them meet their goal – 25,000 to be exact. Each participant has their own running log on the Moon Jogger website and as they input their miles, their total is immediately added to the grand total of the group. At the beginning of the year, each person sets their own personal goal and there are several rankings that participants pass through as they log their miles. The rankings are as follows:

100 Miles: Space Rangers (great for kids)
500 Miles: Cadets
1,000 Miles: Officers
1,500 Miles: Ensigns
2,014 miles: Lieutenants
2,500 miles: Commanders
3,000 miles: Captains
4,000 miles: Commodores
5,000 miles: Admirals
Each mile that a person walks, runs or "ellipticals" supports Little Heroes and gets Moon Joggers that much closer to Venus.
Not only is Moon Joggers a place to log running miles, but it is a place to connect with fellow runners and build relationships with people around the world. Carolyn Guhman, a Moon Jogger from New Orleans, Louisiana, said concerning the Moon Jogger community, "We will laugh with you, cry with you, comfort you, bolster you, praise you, give you pointers, answer your questions, celebrate with you, mourn with you. We don't HAVE to actually see your face to care. And knowing that we all care will make the paths we share smoother, easier and more fun!!"
The Voyage to Venus running challenge is open to men, women and children of all ages, fitness levels, backgrounds, and ethnicity, and from every country around the world. Whether a person is a couch potato ready to get into shape or are an ultra-marathoner logging a hundred miles a week (or somewhere in between), runners are invited to become Moon Joggers. Basically, if there is a heartbeat, Moon Joggers wants to make that heart beat even stronger.
Membership is free to join the Moon Joggers on their Voyage to Venus. There is also an option to do a paid registration to receive an official t-shirt, finisher's medal and other SWAG. Paid registrants can use discount code readytorun2014 to save $10 (code expires December 31, 2013). You can sign up at http://www.moonjoggers.com. Moon Joggers is ready to boldly run where no one has run before.
*In June, Moon Joggers dedicated their monthly virtual run to Adler, a seven year old battling kidney cancer whose family was without insurance, and raised more than $2,500 to help cover his medical costs. In August, their virtual run raised $1,000 to help purchase 20 pairs of running shoes for a group of Kenyan runners who were in need of good shoes.