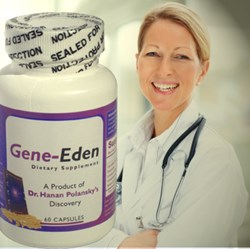 We suggest that men take Gene-Eden-VIR, a natural remedy clinically proven to reduce HPV symptoms. – Mike Evans, polyDNA
Rochester, NY (PRWEB) December 16, 2013
"Men with penile human papillomavirus (HPV) infection have an increased risk of acquiring HIV." This is according to an article published on December 10, 2013 on AidsMap.com (2). Studies have already shown that cervical HPV is associated with increased HIV risk for women (2).
Researchers found that the more HPV types detected on the penis, the higher the risk of acquiring HIV. "Each additional type increased the risk of HIV acquisition by over a quarter. Men with three or more HPV types had over three times the HIV risk compared to HPV-uninfected individuals (2)."
Study authors said "Our results indicate that HPV infection is an important risk factor for HIV acquisition in men that needs to be explored further and accounted for in HIV-prevention studies (2)."
According to the CDC, some men are more likely to develop problems associated with HPV, and are therefore more likely to acquire HIV. "Gay and bisexual men (who have sex with other men) are about 17 times more likely to develop anal cancer than men who only have sex with women." Another at risk group of men includes "Men with weakened immune systems…." This is information was published by the CDC on a page last updated on February 23, 2012 (3).
The bottom line is that there is "mounting evidence showing a higher risk of HIV acquisition among individuals with genital HPV infections," according to Jennifer Smith, PhD at the University of Maryland School of Medicine. Her statement was published on November 22, 2013 in an article on ScienceDaily.com (4).
"We suggest that men take Gene-Eden-VIR, a natural remedy clinically proven to reduce HPV symptoms." – Mike Evans, polyDNA
A study published on August 12, 2013 in the peer reviewed, medical journal Pharmacology & Pharmacy, in a special edition on Advances in Antiviral Drugs, showed that Gene-Eden-VIR reduced HPV symptoms. Study authors wrote that, "Individuals infected with the HPV…reported a safe decrease in their symptoms following treatment with Gene-Eden-VIR (5)." The study authors also wrote that, "We observed a statistically significant decrease in the severity, duration, and frequency of symptoms (5)."
To learn more about Gene-Eden-VIR, and HPV visit http://www.gene-eden-kill-virus.com. All orders of Gene-Eden-VIR are completely confidential, and no information is shared or sold to any third party. Privacy is assured.
References:
(1) Risk of HIV acquisition among circumcised and uncircumcised young men with penile HPV infection. Published on October 19, 2013.
http://www.ncbi.nlm.nih.gov/pubmed/24149088
(2) Men with penile HPV infection have an increased risk of acquiring HIV. Published on December 10, 2013.
http://www.aidsmap.com/Men-with-penile-HPV-infection-have-an-increased-risk-of-acquiring-HIV/page/2809722/
(3) HPV and Men - Fact Sheet. CDC – Page Last Updated on February 23, 2012.
http://www.cdc.gov/std/hpv/stdfact-hpv-and-men.htm
(4) HPV Associated With Increased Risk of HIV in Men. Published on November 22, 2013.
http://www.sciencedaily.com/releases/2013/11/131122103623.htm
(5) Gene-Eden-VIR Is Antiviral: Results of a Post Marketing Clinical Study. Published on August 12, 2013.
http://gene-eden-kill-virus.com/PP_Gene-Eden-VIR-is-Antiviral.pdf
polyDNA is a biotechnology company that develops dietary supplements using the unique scientific method developed by Dr. Hanan Polansky, which is based on Computer Intuition.
In addition to his unique scientific method, Dr. Polansky published the highly acclaimed scientific discovery, called Microcompetition with Foreign DNA. The discovery explains how foreign DNA fragments, and specifically, DNA of latent viruses, cause most major diseases.
polyDNA developed Gene-Eden-VIR, an antiviral natural remedy that helps the immune system kill latent viruses.