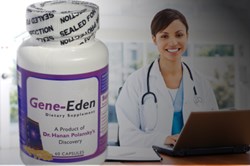 Children and teens don't need to have a weak immune system to get tonsillitis. Even healthy children and teens can acquire an EBV related tonsil infection (2). - Mike Evans, polyDNA
Rochester, NY (PRWEB) December 17, 2013
Many people know that tonsillitis (inflammation and infection of the tonsils) occurs most often in children. Many do not know that tonsillitis can be caused by the Epstein Barr Virus (EBV). Specifically, when a young person becomes sick with infectious mononucleosis ("Mono" or "The Kissing Disease"), he or she can suffer from tonsillitis.
It is commonly thought that children and teens must have a weak immune system to become sick with EBV associated tonsillitis. This is a misconception. Study authors wrote that "the presence of immunosuppression (weak immune system) is not required for the occurrence of EBV-related adenotonsillar hypertrophy in non-immunosuppressive (healthy immune system) individuals." This is according to a study published in January 2010 in the European Archives of Oto-Rhino-Laryngology (2). Thus, even healthy children and teens can acquire an EBV related tonsil infection.
Interestingly, the European study authors wrote that acute tonsillitis can be caused by the latent virus. Latent EBV "in the tonsils …may provoke acute infection (2)." When this happens, children and teens have "a fever, sore throat, foul breath, dysphagia (difficulty swallowing), odynophagia (painful swallowing), and tender cervical lymph nodes. Airway obstruction due to swollen tonsils may cause mouth breathing, snoring, nocturnal breathing pauses, or sleep apnea. Lethargy and malaise are common." This is according to the American Academy of Otolaryngology in a page last updated in January 2011 (3).
Latent EBV can also cause recurring tonsillitis. "…latently infected B lymphocytes (immune system cells) may sometimes cause the occurrence of recurrent tonsillar infections by the establishment of lytic replication and may contaminate other healthy individuals (2)." Furthermore, another study found that "children's tonsils can be colonized by EBV and such colonies may be associated with the pathogenesis of recurrent tonsillitis." This study was published in January 2009 in the Brazilian Journal of Otorhinolaryngology (4).
When children or teens have recurring or chronic tonsillitis, they often experience "sore throat, halitosis…and persistently tender cervical nodes (3)."
"Children and teens don't need to have a weak immune system to get tonsillitis. Even healthy children and teens can acquire an EBV related tonsil infection (2). That's why we recommend that parents should consider giving their child or teen Gene-Eden-VIR. This natural supplement was designed to help the immune system target the latent Epstein Barr Virus. Moreover, it was clinically proven to reduce symptoms of an EBV infection." - Mike Evans, polyDNA
A recent post marketing clinical study published in the peer reviewed, medical journal Pharmacology & Pharmacy, in a special edition on Advances in Antiviral Drugs on August 12, 2013 showed that Gene-Eden-VIR is safe and effective (5).
Each ingredient of Gene-Eden-VIR was chosen through a scientific approach. Scientists scanned thousands of scientific and medical papers published in various medical and scientific journals around the world to identify the safest, most effective natural ingredients that target the latent form of EBV (5).
To learn more about Gene-Eden-VIR and the latent Epstein Barr Virus, visit http://gene-eden-kill-virus.com/EBV.php. All orders of Gene-Eden-VIR are completely confidential, and no information is shared or sold to any third party. Privacy is assured.
Reference:
(1) Swollen tonsils a sign of infection. Published on December 3, 2013.
http://www.newvision.co.ug/news/650112-swollen-tonsils-a-sign-of-infection.html
(2) The correlation between EBV viral load in the palatine tonsils of patients with recurrent tonsillitis and concurrent serum titers of VCA–IgG. Published in January 2010.
http://www.ncbi.nlm.nih.gov/pubmed/19437027
(3) Fact Sheet: Tonsillitis. Last Updated in January 2011.
http://www.entnet.org/HealthInformation/tonsillitis.cfm
(4) Detection of Epstein-Barr virus in recurrent tonsillitis. Published in January 2009.
http://www.ncbi.nlm.nih.gov/pubmed/19488557
(5) Gene-Eden-VIR Is Antiviral: Results of a Post Marketing Clinical Study. Published on August 12, 2013.
http://gene-eden-kill-virus.com/PP_Gene-Eden-VIR-is-Antiviral.pdf
polyDNA is a biotechnology company that develops dietary supplements using the unique scientific method developed by Dr. Hanan Polansky, which is based on Computer Intuition.
In addition to his unique scientific method, Dr. Polansky published the highly acclaimed scientific discovery, called Microcompetition with Foreign DNA. The discovery explains how foreign DNA fragments, and specifically, DNA of latent viruses, cause most major diseases.
polyDNA developed Gene-Eden-VIR, an antiviral natural remedy that helps the immune system kill latent viruses.