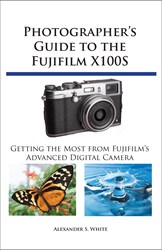 The book includes more than 300 full-color images that illustrate the X100S's controls, display screens, and menus.
(PRWEB) December 17, 2013
The original Fujifilm FinePix X100 camera, introduced in September 2010, gathered praise both for its headline-making "retro" design and for combining superb image quality with simple, physical controls. With its DSLR-sized image sensor, solid construction, and strong features for creative photography and video-making, the original X100 attracted a dedicated following among photography enthusiasts.
In early 2013, Fujifilm released the X100S, which retained the outstanding features of the original model and enhanced them with a new image sensor that provides improved autofocus ability and better low-light performance; faster and more accurate manual focusing; a higher-resolution display screen; better video-recording capability; and numerous smaller tweaks that enhance the camera's usefulness.
With the release of Photographer's Guide to the Fujifilm X100S, White Knight Press has made available an affordable, full-color guide book to all aspects of the operation of the X100S camera.
The new book, available in e-book formats or as a 400-page trade-sized paperback, provides guidance to beginning and intermediate photographers about how to capture still images and videos with the X100S, as well as when and why to use the camera's many options. The book includes more than 300 full-color images that illustrate the X100S's controls, display screens, and menus. These images include examples of photographs that can be captured using the camera's special settings, including Film Simulation and Advanced Filter, as well as examples illustrating the use of the standard exposure modes, including Aperture Priority, Shutter Priority, and Manual.
In addition, the book provides introductions to topics such as infrared photography, street photography, digiscoping, and macro photography.
The book includes a full discussion of the video-shooting features of the X100S, which can capture high-definition (HD) video with stereo sound, and it explains in detail how the camera's various controls and menu options function during video recording.
In three appendices, the book discusses accessories for the X100S, including cases, external flash units, filter adapters, and external microphones, and includes a list of useful web sites and other resources. The book also includes an appendix with "quick tips" for using the camera's features in the most efficient ways. The book has a detailed Table of Contents and Index, both of which can be downloaded for examination at whiteknightpress.com.
The paperback version of the X100S guide book is available for $24.95 through Amazon.com; it also is available in a Kindle edition through that site. The book is available for $9.95 in downloadable PDF and ebook formats through whiteknightpress.com.