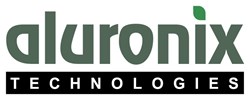 Aluronix's patented SSRB technology offers consumers a superior product by allowing consumers to enjoy more of Hyaluronic Acid's health benefits.
Montreal, QC (PRWEB) December 19, 2013
Aluronix Technologies Inc. has announced a new, patented method for significantly enhancing the effectiveness of Hyaluronic Acid health products. Using this patented SSRB technology, Aluronix will soon release a complete line of superior Hyaluronic Acid supplements for a variety of health concerns.
Aluronix's patented SSRB technology offers consumers a superior product by allowing consumers to enjoy more of Hyaluronic Acid's health benefits. First, Auronix's products will offer increased bioavailability, allowing the body to better process the Hyaluronan. Second, Aluronix's products will be blended with other bioactive ingredients to help deliver Hyaluronic Acid to where it's needed most.
"We're very excited about this break through," said Dr. Felix Polyak, President of Aluronix Technologies Inc. "Our team of scientists and researchers have isolated some key elements of creating the superior Hyaluronic Acid products, and with our patented SSRB technology, we will be able to offer a higher quality of Hyaluronic Acid products that are unmatched the world over."
Aluronix's technology augments the bioavailability and absorption of other health additives that are blended with Hyaluronic Acid to better target different bodily systems.
While the body usually absorbs only a fraction of the orally delivered compound from any other supplement, Aluronix's products offer a bioavailability of up to 90% and higher. This offers consumers both cost-savings and better health benefits.
The company's patented SSRB technology achieves enhanced bioavailability by stabilizing Hyaluronic Acid molecules and prolonging their lifespan in the body. This allows the full dosage of both Hyaluronan and the other bioactive ingredients to be metabolized. The end result is that Aluronix customers will enjoy both greater value and health benefits than they would with other Hyaluronic Acid products.
Aluronix's SSRB technology will also ensure that the dose will be targeted to where it is needed most by blending it with other bioactive ingredients. Hyaluronic acid occurs naturally throughout the body, and is key factor in promoting the health and healing of several bodily systems. Consequently, many different bodily systems often compete with each other to absorb Hyaluronic Acid, which can significantly reduced the desired effect of.
Aluronix has solved this problem by blending Hyaluronic Acid with other bioactive ingredients on the molecular level to ensure that it is delivered to where it is needed most. Aluronix's technology also increases the bioavailability of these bioactives to 90% and higher much in the same way it increases the bioavailability of the Hyaluronan itself.
Drawing on the increased bioavailability and targeted deliver offered by its patented technology, Aluronix will soon launch several different Hyaluronic Acid products. These will include joint care, body detox, skin rejuvenation and anti-aging products. Aluronix will soon begin production on its line of products to be made available across North America and Europe.
About Aluronix Tecnologies Inc.
Based in Montreal, Quebec, Canada, Aluronix Technologies Inc. is committed to the manufacturing and distribution of the most advanced health supplements possible. Through advanced research and development, its laboratories are continually developing new methods for enhancing the benefits and effectiveness of different health products.