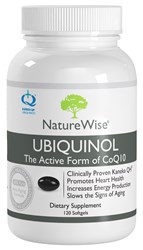 Include both organic extra virgin olive oil and medium chain triglycerides (MCTs) for maximum Ubiquinol absorption.
Ashland, OR (PRWEB) December 16, 2013
NatureWise announced today the release of their new supplement NatureWise Ubiquinol with 100% pure Kaneka HQ. Ubiquinol is a powerful antioxidant that has been shown to increase energy levels while providing immune and nervous system support*. As we age, Ubiquinol levels in our bodies decrease, contributing to loss of energy and stamina. Increasing the Ubiquinol levels in our bodies through daily supplementation can help restore energy while providing antioxidant support that helps to combat free radicals that promote overall health.* NatureWise uses a combination of soy-free Kaneka QH Ubiquinol, the most clinically studied and stable form of ubiquinol available, along with organic extra virgin olive oil and medium chain triglycerides (MCTs) to ensure maximum absorption*.
NatureWise is a natural health supplement company located in Ashland, Oregon. The company is committed to developing the highest quality health supplements that serve to provide everyday support for individuals seeking a healthier lifestyle. To learn more about NatureWise products, please visit: http://www.naturewise.com.
Legal Disclaimer
*These statements have not been evaluated by the Food and Drug Administration. This product is not intended to diagnose, treat, or cure any disease.