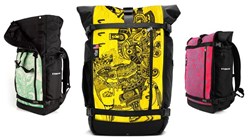 The world is waking up to the fact that our passions and interests are much more fulfilling when they are shared in a common thread. So much more can be accomplished when the bottom line is love and respect.
Minneapolis, Minnesota (PRWEB) December 16, 2013
Ethnotek entered the market in 2011 with a unique concept: the fusion between two seemingly disparate elements: Ethnology and Technology. It is the fusion between these two elements that something special is born: a line of high quality laptop compatible backpacks, shoulder bags and accessories that merge handmade, culturally rich textiles with technical features and functionality. The team, composed of Jake Orak, Josh Linde and Megan Suszynski, has an extreme passion for sparking mass cultural awareness and preserving traditional, handmade craft, using socially responsible laptop bags as functional vessels for telling the story of their partnering artisans in Ghana, Guatemala, India, Indonesia and Vietnam.
The unique design element of the core line of bags is the interchangeable front panel of the bags called a Thread®. Each Thread is created from handmade ethnic textiles, sourced directly from the villages in which they were created.
Ethnotek's mission is to keep culture alive through the celebration and promotion of world culture, and what better way to counterpoint their existing collection of traditional textiles than by showcasing the modern art and techniques that stem from American sub-culture. In the melting pot that is the United States, Ethnotek set out to explore how culture ties into the process and artwork of a domestic artist with this Artist Series collaboration. This domestic collaboration marks a first for Ethnotek, and the team is honored to have worked with such a talented artist who not only considers America as a melting pot, but each individual as a melting pot down to the microscopic level, with the blood of our ancestors running through our veins.
"I am originally from far west Texas," said Shay McAnally, "I come from a family of cattlemen and ranchers. I grew up on horseback. Upon finding my first arrowhead in the sand hills as a child, I realized that there were people that lived here before me, and it amazed me to no end."
How does this cultural exploration tie into Shay's artwork, and specifically to this Limited Edition Thread collection? "Being so close to Mexico in the southwest, I was greatly influenced by the aesthetic of the Mexican culture. I had never formally studied it…it's almost as though just by living in the southwest, I was subconsciously influenced by something more. There is definitely an undertone of sci-fi and fantasy in my work." McAnally has decided to invest a portion of the profits generated from this collaboration to the Texas Mural Project.
Shay chose to collaborate with Ethnotek because "they are good people with great ideas. Our values and ideals are definitely in line. I believe in what they are doing. We will see more and more of this [socially responsible] type of business. The world is waking up to the fact that our passions and interests are much more fulfilling when they are shared in a common thread. So much more can be accomplished when the bottom line is love and respect."
Just how "limited" is the collection? It will feature 30 Threads, each slightly unique and slightly different, compatible with the Raja Pack. In addition to the Artist Series this holiday, Ethnotek is releasing various new Thread styles for their core bag line, brand new Dep Tote bag styles, tablet and eReader sleeves, a gift card option and more.
The Shay McAnally Artist Series collection will be available on Ethnotek's website this holiday season, where you'll also be able to learn more about the artist and his process: http://www.ethnotekbags.com/collections/artist-series. Ethnotek will also be making an appearance in Shay's hometown of Austin for a holiday pop-up shop at 615 Congress Avenue in collaboration with Teysha from Mon-Sat 11am-6pm through December 22, showcasing local art, global goods and gifts that empower at "The Teysha Lounge."
Follow Ethnotek on Instagram (@ethnotekbags) for more details about the collection and to follow the adventures of the #etktribe.
About Ethnotek:
The Ethnotek Tribe is a small group of creative people with passion and dedication to the mission of spreading cultural appreciation and awareness. Their chosen medium to get the message out is high-quality, socially responsible laptop compatible backpacks, messenger bags and accessories that combine one part function and one part culture, allowing you to carry a piece of global heritage on your everyday or once-in-a-lifetime adventures.