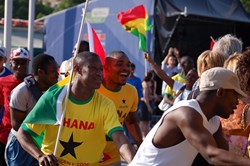 Gravesend, Kent (PRWEB UK) 22 December 2013
In Omanye's earlier release regarding the Black Stars donation, it was stated that the Ultimate prize for the donation draw is a Match ticket to the FIFA 2014 World Cup in Brazil.
This is incorrect. Omanye wishes to retract and correct this error. The Ultimate prize is a flight ticket to the 2014 world cup in Brazil.
Omanye sincerely apologizes to all for this error.
About Omanye
Omanye Money offers fully featured global Personal and Corporate Payment Account solutions that are high-quality, easy to use, instant, secure and convenient at a very low cost. Omanye Money makes extraordinary financial services available to everyone, giving people direct access to their accounts wherever they are 24/7.
Omanye Money enables the unbanked and under-banked individuals and businesses around the world, especially African Small/Medium Scale Enterprises (SMEs), to send and receive money and settle bills electronically from their Omanye Payment account by SMS, Interactive Voice Response (IVR), online, Contact Centre, self-service kiosks and Omanye Agents.
About the Black Stars
The Ghana national football team popularly known as the Black Stars has represented Ghana in association football since the 1950s. Black Stars is administered by the Ghana Football Association (GFA), the governing body for football in Ghana and the oldest football association in geographic Africa (founded in 1920). Prior to 1957, the team played as the Gold Coast. The team has won the Africa Cup of Nations four times(in 1963, 1965, 1978, and 1982) and have been runners up 4 times (in 1968, 1970, 1992, and 2010). In 1992, the Ghana Olympic football team became the first African football team to win a medal at the Olympics, finishing third. At the 2010 FIFA World Cup in South Africa, they became the third African team in history to reach the World Cup quarter-finals. In the 2006 and 2010 World Cup games, the Black Stars were on aggregate one of the top 10 teams in the world, a feat not achieved by a team outside of Europe and South America over a similar length of time historically.
Omanye Limited, 4 Markers Lodge, 35 Lower Range Road, Gravesend, Kent, DA12 2QS, United Kingdom
Office: +44 (0) 207 99 30535
contact(at)omanye(dot)com
Website: https://http://www.omanyemoney.com