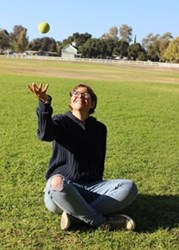 Dunn is one of just two high schools in the United States teaching this college-level entrepreneurship program.
Santa Barbara, CA (PRWEB) December 17, 2013
At Dunn School, a college-prep private school for grades 6-12, students and faculty this fall distinguished themselves broadly in the arts, mathematics and innovation.
Emily Cummings, a seventh grade student at Dunn Middle School, took to the professional stage in December, with a role in The Ensemble Theater Company of Santa Barbara's production of A Little Night Music. She deftly performed as Fredrika in the warmly-humorous musical.
In November, a Dunn teacher-student duo won first prize and an unprecedented $55,000 investment in Santa Barbara's Startup Weekend, in which entrepreneurs compete to launch a startup in 54 hours. Dunn's entrepreneurship teacher, Alex Kehaya, led the victorious team, which also included sophomore Abe Storey – the only student in the competition.
At Dunn, Kehaya teaches an entrepreneurship class using the Lean Launchpad curriculum designed by Silicon Valley luminary Steve Blank. Dunn is one of just two high schools in the United States teaching this college-level entrepreneurship program.
Senior David Zou made his mark this fall in Math Madness, a competition sponsored by the Mathematical Association of America. Tackling weekly math challenges under intense time pressure, David rose to a rank of 65 out of 12,534 national competitors, lifting him well into the top 1 percent.
As he finishes applications for colleges around the country, David has high hopes for applying his math skills to a major in business or engineering. If he gets into his top-choice (University of Pennsylvania) he intends to pursue both fields in a double major.
Proving she has a way with words, freshman Bailey Guess was delighted to learn that one of her poems won top prize in a writing contest on Figment.com, a literary website for teens started by a writer and editor from The New Yorker. The poem, Tennis, is short at just 14 words, yet the images it evoked struck a chord with readers, and with the judges.
And delighting readers with actual images, art department chair Nancy Yaki's paintings dazzled book publishers this fall. A self-portrait appears in the newly-released book Between Seer and Seen, Celebrating the Artists of Santa Barbara County, by local photographer Mark Halper. And Yaki's painting "Moss Cove" appears in AcrylicWorks: The Best of Acrylic Painting, published by North Light Books and due for release in February of 2014.
Dunn is a college-prep day and boarding school in Los Olivos, California. Dunn students and faculty enjoy a strong college-prep community - a small school where academic rigor goes hand in hand with the arts, athletics and real-world experiences. Together, Dunn's teachers inspire 220 young men and women with engaging classes and a deep passion for teaching and learning. Dunn's beautiful 55-acre campus sits in the heart of the Santa Ynez Valley, just 30 minutes from Santa Barbara.