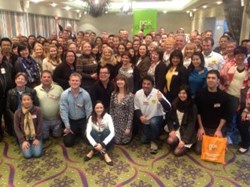 What's really interesting is that when I first started in the business, real estate agents would lock their doors when they saw me coming. But over they years, more and more are starting to send people to me.
(PRWEB) December 17, 2013
Little known property investing strategy, vendor finance which has been around since the 1850's in Australia is finally starting to grab the attention of Australians, real estate authority, Rick Otton, has revealed in a recent Creative Real Estate podcast on 'Street Smart Secrets to Real Estate Wealth'. In the podcast, Mr Otton says that Americans have been embracing creative real estate investing option more recently, but Australians are only starting to make this radical mental shift towards financial freedom.
"We're just seeing a big change in the dynamics and thinking process related to how people are starting to trade houses in Australia," he said.
The Australian property authority is best known for his advice, tips and strategies that promote ways to make money in the property market regardless of location, market conditions or banking finance.
He offers fresh and often radical perspectives on traditional ways of doing things, making it his personal mission to help as many people as possible fulfill their dreams of home ownership even without saving for a large deposit and creating stepping stones towards bank finance.
"I'm not in the house business, I'm in the opportunity business," Mr Otton explained.
Accumulating housing stock
Rick Otton student, Carl Williams, from North Queensland, told podcast listeners he had been involved in real estate for many years before attending a workshop held by Mr Otton.
He said he was blown away by the "groundbreaking information" shared, and was now onto his fourth successful property transaction.
"On the first deal, I was absolutely knocked down in the rush with buyers wanting to buy the house, people who wanted to give me upfront deposits," Carl said.
"On the second deal, one of my surplus properties is now generating unbelievable positive cash flow. The thing I've discovered is that there are so many people that want to get into the market and buy a property, but they're being held back by their ability to get a bank loan."
Mr Otton said real estate agents unable to sell properties were also starting to refer clients to these non-traditional, not as well known techniques.
"What's really interesting is that when I first started in the business, real estate agents would lock their doors when they saw me coming. But over they years, more and more are starting to send people to me," Mr Otton said.
"They might say, 'We can't help you Mr Smith. You don't have enough deposit, you can't get a loan. But, there's a guy called Rick Otton, contact this guy'."
To hear this podcast in full, and other no-charge podcasts from Rick Otton visit CreativeRealEstate.com.au.
Mr Otton has made available at no charge a downloadable Power Property Profits Pack – details are at http://creativerealestate.com.au/freepack/.
About Rick Otton
Australian property investment specialist, Rick Otton, has been developing, sharing and teaching his innovative real estate strategies for 23 years. As the founder and CEO of We Buy Houses, which operates in the US, UK, Australia and New Zealand he is known for introducing cutting-edge techniques that have enabled previously disenfranchised people to get out of the rental cycle and into their own homes.
His innovative low-risk, high-reward approach to Australian real estate investing has been featured in a variety of television programs and magazines, including Today Tonight, Hot Property and Australian Property Investor. His real estate book, published in 2012, ''How To Buy A House For A Dollar', voted by Money Magazine and Dymocks Book stores as one of the Top 10 Most Popular Finance Titles for 2013.
As well as conducting free seminars, workshops and conferences in the UK and Australia, Mr Otton releases a weekly podcast on iTunes, Creative Real Estate. In these he shares examples of real transactions, and you can listen to his students share their own experiences using his strategies.
Go to CreativeRealEstate.com.au to listen to Rick's free podcasts.