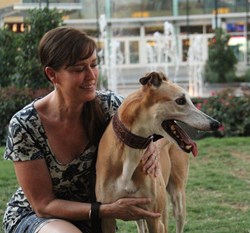 Tyler, TX (PRWEB) December 17, 2013
On Friday, December 20 at 11:00 am, Ms. Burke will be making an appearance with Perry, her retired racing greyhound, on the East Texas Live Morning show - KETK-TV/NBC. Ms. Burke is the author of two children's action adventure stories in a trilogy about a retired racing greyhound.
Ms. Burke will be talking about her 2013 release of Logan and The Mystical Collar - an exciting time travel adventure story set in Ancient Egypt. This well-researched period "tween" novel combines an accurate historical lesson with an adventurous story line the reader is sure to remember. Go back in time with Logan and experience Ancient Egypt through the eyes of the world's oldest dog breed – the greyhound. See how Logan overcomes bullying and develops leadership skills, which change the course of history.
Logan time travels to Ancient Egypt where he joins a cast of interesting greyhound and human characters very familiar to him, yet he can't understand why they don't know him. In this story there are no communication gaps between human and dog – they can talk to each other! Logan meets a famous Egyptian queen, an imposing bully, and a crafty wizard who guide him through amazing adventures and unleash secrets he must guard with his life.
Readers are then treated to additional chapters with fun facts and history about Ancient Egypt, and greyhounds – one of the oldest and most intriguing breeds in the world. And like the first book, Logan's Secret in the Greyhound Stories book series, Logan and The Mystical Collar offers educational projects for children to stimulate creative writing, expanded vocabulary, and decision-making skills. The book appeals to both children and adults. Children with reading challenges have especially adopted this chapter book because of the unique storyline, characters, and colorful illustrations.
"Logan's exciting adventure to Ancient Egypt covers the sensitive topic of bullying and in a educational and fun way helps children to understand both sides of the issue," says author Suzanne Burke. "And the life lessons Logan and his friends teach in this historical journey are worth sharing with all readers – especially children." Ms. Burke adds, "It's also my hope that readers will want to learn more about this wonderful breed of dog and consider adopting one of the many retired racing greyhounds needing a forever home."
Ms. Burke's first book in the series, Logan's Secret was published in 2012 and is an introduction to Logan's character. Logan's Secret is based on the true-life story of Logan the Greyhound who lived at a racetrack in Florida, and was retired in Texas. The story, written through the eyes of Logan, offers a unique view into a greyhound's racing life and search for his forever home.
The third story in the trilogy is currently in development and promises an exciting time travel adventure to historical Europe during Medieval Times to solve the mystery of the Phoenix.
A portion of December sales from books purchased on Amazon will be donated to the greyhound adoption group that Ms. Burke volunteers for – The Greyhound Adoption League of Texas.