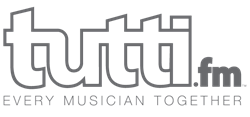 "I invite you to come share your work... Tutti.fm was designed with your needs in mind."
Westlake Village, CA (PRWEB) December 16, 2013
Tutti, LLC., redefining how the music industry engages, mentors, educates, and recruits talent worldwide, today announced the launch of phase one of the Tutti.fm website. Today, Tutti.fm is the first worldwide musician-inspired network allowing musicians to engage like never before.
Phase two will introduce a unique mentor platform to connect musicians at all skill levels. Phase three will enhance the way teachers & students interact through an intuitive education portal, which will also offer a way for musicians to showcase their auditions - allowing colleges & universities, ensembles, music labels, etc. to recruit.
"The idea for Tutti came to me one day when I realized that there were many places online to discuss a particular instrument or genre, but that there was not a place where all musicians could come together to support each other. I received encouragement from musicians of all levels and all genres to help create this new platform. From award-winning music educators to Grammy and Emmy winning musicians, from beginning middle school students to professional recording artists, they all desired an online community just for musicians." recalls Tutti, LLC. Founder and CEO, Ryan Poulson. "I invite you to come share your work. It doesn't matter if you're an instrumentalist, a vocalist, a composer, or a recording engineer; you're all musicians and Tutti.fm was designed with your needs in mind."
Tutti.fm can be followed on Twitter at @tuttiFMmusic.
To learn more and sign up for Tutti, please visit at http://www.Tutti.fm.