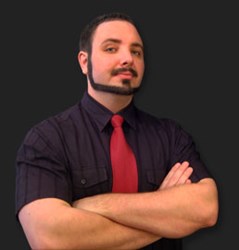 Las Vegas, Nevada (PRWEB) December 16, 2013
Drawk Kwast has been turning men into alpha males for over seven years through his Total Experience Immersion training program. Today marks the addition of hormone optimization to the program adding one more dimension to the tools used for maximizing masculine characteristics, health, and success. Kwast said that, "The world has entered into an epidemic where little boys are growing up to become little girls. The drastic decrease in testosterone for every age group of men since the 1960s is catastrophic. The very thing that makes men who they are has been taken away from them, and in most cases, without these feminized boys even knowing what's wrong. The result is sick, weak, fat non-men who lack the necessary ingredient for successful and happy lives. Total Experience Immersion stands as a last line of defense protecting alpha males from extinction."
More information is available at:
http://www.drawkkwast.com/total-experience-immersion/.
About Total Experience Immersion:
Total Experience Immersion is a 60-day program offered by Drawk Kwast for men seeking to maximize masculine life skills. It focuses on teaching both entrepreneurial and seduction skills to provide clients with a life of money, women and power. The program begins with medical staff testing and optimizing various parts of the client's body including qEEG and SPECT scans of the brain, alignment of the central nervous system and hormone optimization. This is followed by a program of performance nutrition and exercise. Once the brain and body have been optimized, clients are guided through a series of life-changing experiences carefully constructed to teach them in a real-world, hands-on environment. It is the world's most thorough and scientifically advanced program for turning men into alpha males.
About Drawk Kwast:
Drawk Kwast has helped the world's most hypercompetitive men dominate the competition at work, attract the most desirable women on the planet and ultimately achieve fulfilling lives. Forbes, USA Today, Details, Worth and Entrepreneur have all recognized his ability to transform clients' desires into reality through his 60-day Total Experience Immersion training program. He's the author of two books: Domination Basics: Secrets of the Alpha Male Book 1 (ISBN 1453801898), and Power Communication: Secrets of the Alpha Male Book 2 (ISBN 1479372706). He resides in Las Vegas, Nevada.