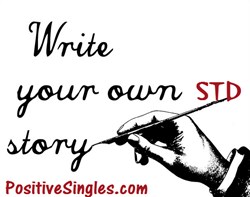 Los Angeles California (PRWEB) December 16, 2013
The premier STD dating site for active singles who suffer from sexually transmitted diseases, PositiveSingles.com, is now offering to pay for STD-related articles and press releases for the site.
In order to take advantage of this offer, one need not be a professional writer, as long as the author can write well. PositiveSingles.com is offering to pay between $100 to $1,000 as a reward for each well written article that is approved and accepted by the site. Even people who do not consider themselves to be writer can still take advantage of the offer. Anyone who is a member of PositiveSingles.com, can recommend a writer. If that the site accepts an article from that writer, the member can also earn between $200 to $1,000 finder's fee reward for your efforts. That's not a bad deal at all.
PositiveSingles.com is looking for articles on topics that relate to the lifestyle and concerns of people who have sexually transmitted diseases. Some topics that can be considered are the STD lifestyle and how it effects relationships, trying to maintain a healthy sex life, how it has effected the author's marriage and any other topics of how living with an STD has effected one's life and loved ones. This offer is a great chance for anyone who lives with an STD to express how it has effected his or her life, in addition to being a great way to just share stories and innermost thoughts with other people who can identify with the story.
Any experienced writer who has an STD and would like to take advantage of this offer, or may have additional questions, can contact PositiveSingles.com directly at: annechangmd(at)gmail(dot)com.
About PositiveSingles.com
As the largest and most trusted online dating site for people living with Herpes, HPV, HIV / AIDS, Hepatitis, Chlamydia, Gonorrhea, Syphilis and other STDs, PositiveSingles.com is completely anonymous and cares about members' privacy more than other sites. You are not required to submit any information that you are not comfortable with on this site. Whatever you are looking for Herpes dating, HPV dating, HIV AIDS dating, or any other STD dating, PositiveSingles.com is the best place.