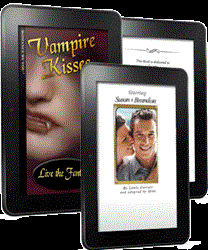 Upload a photo and include a dedication, select the lead characters - the result is a remarkably unique ebook and gift. Last-minute or any minute!
(PRWEB) December 16, 2013
BookByYou.com, the leading publisher of personalized paperback and hardcover books, is thrilled to announce the release of its personalized ebook collection, just in time for the holidays. The entire collection of Classics, Romances, Mysteries, Teen books, and Kids books are now also available in personalized ebooks editions. The company's ebooks are available for download immediately upon order. To make these ebooks especially personal, each ebook includes a free photo upload feature and a personalized dedication page - along with the selection of names and features to include in the book. The result is a remarkably unique ebook that can be taken anywhere and read any time.
Personalized Classic ebooks include Charles Dickens' holiday classic, "A Christmas Carol," as well as four of Jane Austen's classic love stories, "Pride and Prejudice," "Northanger Abbey," "Sense and Sensibility," and "Emma." Agatha Christie's "The Secret Adversary" is featured in the personalized ebook collection, as well as many others, including Book By You's newest release, "The Fairytale Princess Collection"—perfect for princess of any age. For the mystery lover, Book By You offers personalized classic ebooks like "The Adventures of Sherlock Holmes," Agatha Christies "The Mysterious Affair at Styles," and paranormal, time-traveling werewolf thriller "Fierce Moon."
Book By You's personalized ebook romances includes something for every taste. Traditional romance fans will love titles like the delectable cake-walk "Wedding Favors," and the funny romantic comedy "Love's Next Door," and provocative novels like "Vampire Kisses" and "Fierce Moon" will have paranormal fans' blood running hot. Swarthy swashbucklers can ride waves of passion with "Pirates of Desire," and there are even more romantic personalized ebook titles to choose from.
Book By You has five titles available for personalized ebooks for teens. Lovers of Stephen Chbosky's cult classic novel-turned-hit-movie "The Perks of Being a Wallflower" will adore Teen Book By You's personalized ebook "Prom and Prejudice." For fans of the paranormal, Teen Book By you offers their latest release, "Black Lace," and devotees of J.K Rowling's best-selling "Harry Potter" series will be bewitched by "Sea Spell". "Twilight" fans can rekindle their "Team Jacob" vs. "Team Edward" fight with Teen Book By You's personalized werewolf ebook, "Night Wolf," or a personalized vampire ebook, "First Bite."
Kids Book By You's newest release, "Riddles and Codes," is available as an ebook, alongside the rest of the collection, including the short story collection, "The Book of Dragons," and full-length novels like "Song Quest," packed with magic, music, and, naturally, a noble quest. Kids Book By you also features classic personalised ebooks like "Robin Hood," "Alice in Wonderland," and "Peter Pan."
Book worms can personalize their ebook selection by providing specific information like loved-one's names, features, even favorite drinks and places, and over twenty-five other unique characteristics to make their fantasy world a reality. A spouse, friends, and family, can be included, too. The result is a full-length ebook, also available in paperback or hardcover, that can be further personalized with a customized cover and individual photo for the back cover, making this the most unique gift imaginable.
To purchase a personalized ebook, readers go to the company's website at BookByYou.com and complete a character questionnaire specifying the information to be included in their book. The company offers a free demonstration area where readers can preview personalized excerpts from any of the company's teen, romance, mystery or children's personalized books.
BookByYou.com has received national media coverage and has been featured on ABC's The View, CNN, Fox News, The Wall Street Journal, Jimmy Kimmel Live and many additional media outlets.
BookByYou.com is an interactive publishing company and the world's largest provider of personalized books. Media interviews, promotions and give-aways are available upon request. Please contact Michael Pocock at 1-877-898-1440 or publish(at)BookByYou(dot)com