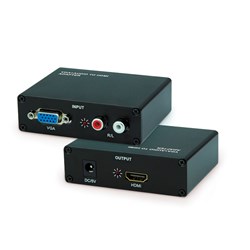 (PRWEB) December 16, 2013
Hiconn Electronics is a leading online shop of high end electronic devices. At the moment, the company is offering a site-wide sale of 25% off on all its VGA with Audio to HDMI Adapters. All customers can enjoy the special offer before the deadline of the promotion (January 4, 2014).
"We are pleased to launch the special offer to facilitate worldwide customers. The brand new VGA with Audio to HDMI Adapters are available in several specifications. At our website, all products are provided with low shipping fees," the CEO of the company sates.
The detailed information about the company's VGA with Audio to HDMI Adapters is as follows:

Model NO.: VAH-1P
Application: Multimedia, DVD Player
Color: Black
Type: Coaxial
Certification: RoHS, CE, ISO9001, UL
Connector: HDMI
Export Markets: Global
Compliant with HDMI 1.3.
*Video input resolutions: 640 x 480@60Hz, 720 x 576@50Hz, 1280 x 720@50/60Hz, 1920 x 1080@50/60Hz, 800 x 600@60Hz, 1024 x 768@60Hz.
*Audio input stereo 3.5mm
The promotion covers all VGA with Audio to HDMI Adapters from the company. All these high end items are featured with good shapes and excellent performance. They were well designed by the company's top experts. The considerate company is trying its best to make things convenient for customers.
About Hiconn Electronics
Hiconn Electronics (Shenzhen Hiconn Electronics Co. Ltd.) is devoted to designing and manufacturing a wide range of connection cables and customized cable assemblies, offering many HDMI cables, VGA cables, SATA cables, USB cables, 1394 cables, DVI cables, SCSI (Small Computer System Interface) and more. For more information, please visit http://www.hiconn.net/.
Contact Person: James Yin (Sales Director)
Company Name: Shenzhen Hiconn Electronics Co., Ltd.
Address: Shenghua Building., Xixiang Road., Baoan District, Shenzhen, Guangdong Province, China
Zip Code: 518102
Tel: +86-755-8109 8345
Fax: +86-755-2779 3497