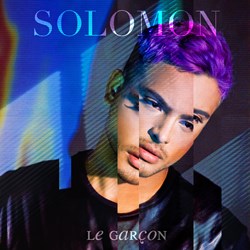 This EP is really dark. Probably the darkest body of work I've ever done. Very sinister.
New York, NY (PRWEB) December 16, 2013
Today Electronic Hip-Pop artist Solomon announces the release date for his upcoming EP, Le Garçon. Slated for a February 4th release, SolRay Records launched pre-orders for the 11-track physical disc today.
Pre-Order Link: http://smarturl.it/LeGarconPreOrder
When fans of Solomon pre-order the signed physical CD, it also comes with three limited edition 5.47" x 4.21" full color postcards, a 4.75" x 4.75" sticker and a digital download of Le Garçon set to be delivered by February 4th. To tide fans over till then, Solomon is offering an instant download of "Boomerang (feat. LastO)" along with past singles "Swim No More" and "The Way We Were." But it's the physical package and design that Solomon is most excited for.
"Growing up I would spend hours in record stores looking at albums and coaxing my parents into buying me one. There was this sense of excitement about buying a physical CD, running home and carefully opening it. Reading the credits, the lyrics and seeing what the disc looked like. I remember that and miss it terribly. That's why I wanted to help bring that excitement back with this EP. Not only is the booklet and artwork inside vibrant and stunning, but the postcards and sticker were designed exclusively for the physical package."
Crafted out of isolation and inspired by digital art media, the prelude to Solomon's highly anticipated debut album, Le Garçon is packed with hard-hitting beats, smooth melodies and vulnerable lyrics. The EP, a collection of new original songs, interludes, a poem and a hidden track, finds Solomon comfortably flexing his musical talents while assessing a new generation of music listeners.
"Somewhere in the midst of recording material for this EP, I began thinking about how our society and generation consume media and I decided to make the structure of this EP different. I don't want you to pick and choose which songs you want to hear and in what order. I'm the artist and I dictate all of that. You have to listen to me, and let me guide you through this recording. That's why I broke it up in parts and placed a hidden song."
With subjects ranging from heartbreak, sex, anger and confusion, Le Garçon finds Solomon at his most revealing.
"This EP is really dark. Probably the darkest body of work I've ever done. Very sinister. I began recording and writing this EP in a quite somber and very earnest mindset. Then towards the end I became angry and frustrated. I've always suppressed my anger for years, so I kind of snapped on this EP."
Slated for a February 4th release, this EP is sure to solidify the genre bending musician as one this years most celebrated and talented artist. Pre-orders are being held here: and Solomon's official website http://www.solomon-music.com. Tracklisting can be viewed below.
LE GARÇON
Official Tracklisting
Ne Me Quitte Pas
Swim No More
Tell Me You Like It (Intermède)
3 Dolla Bill
Let You Go (Part Une)
Boomerang (Feat. LastO)
Let You Go (Part Deux)
Crash Into You (Feat. Baron)
Wild Horse (Poésie)
The Way We Were
We Made It Tonight
ABOUT SOLOMON: Born a Capricorn in San Diego, CA, Solomon is a Electronic Hip-Pop singer/songwriter, rapper and producer. Introduced in 2008 on Eminem's Shade45 Sirius Radio Show, the artist has gone on to release a plethora of singles, remixes, EP's and mix-tapes. His last single, "Life Goes On…" proved to be a success on Sirius/XM and Pandora radio. With music videos debuting on MTV, VEVO, Logo's NewNowNext and more, the singer has toured with the likes of Deborah Cox, Kelly Rowland and headlined a show at West Hollywood's Key Club. Solomon is currently in the studio working on his debut album, Why Boys Cry, slated for a 2014 release. For all things Solomon, please visit solomon-music.com.