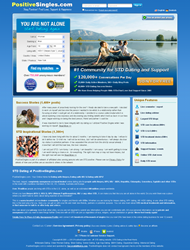 Los Angeles (PRWEB) December 17, 2013
The popular dating website for people with STDs, PositiveSingles.com, has announced they are adding some exciting new upgrades to the site in December. The new additions to the website will make the experience of using the site easier and more enjoyable.
PositiveSingles.com will keep some of the traditional, favorite features, but they will be adding additional, interesting features to make the site easier to use. The new new updated site will have a simpler, cleaner layout with bold titles that will create a clear and easy to read page. It also looks more modern and up to date. Members can still enjoy many of the same features that keep them coming back to PositiveSingles.com, such as the inspirational stories, first dating ideas, treatment stories and more.
Members can look forward to three additional new features new version of PositiveSingles.com. One of the new features is called "Viewed Me." In this feature, members will be able to see who has viewed their personal profile recently. This new feature will be a good way for members to know who is interested in them, and hopefully increase interaction among members. Members can contact the other members who viewed their profile. This gives them the incentive to get to know other members who may be interested in them.
Another new feature is called "You Might Like." This new and fun feature will suggest possible matches to members, according to the requirements they have indicated in "About My Match." The last new feature is called "Latest Activities." This feature shows which members have been the most active recently. Members can see any new "about me," other sections and pictures that other members have recently updated. The stories and emotions posted in this section may lead to a true love story. PositiveSingles.com expects that members will share their feelings, life and points of view actively and positively, leading to members getting to know each other better.
The search feature on the new site is easier to find and use. There is also a bold "wink" button that allows members to make a little impression on a possible match by winking at them, instead of directly contacting them. Of interest is also the "new members" area, where members can see who recently signed up to the site.
PositiveSingles.com addition of exciting features to their popular dating site for people with STDs will make the dating experience easier and more fun. The upgrade to the site will make it more user friendly and easier for users to find matches.