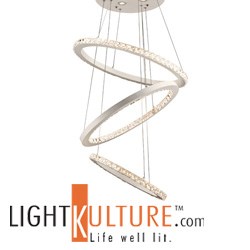 Élan has filled a void in the modern lighting niche with exciting LED designs at a tremendous value.
New York, NY (PRWEB) December 17, 2013
LightKulture.com is excited to offer Élan, modern artistic LED lighting by Kichler. "I predict great success with the Élan collection" noted Susan Inderbinen President of LightKulture.com. Élan is a comprehensive product offering of bold shapes in modern LED lighting for every room in today's homes. Élan, a Kichler company, takes it's inspiration from a passion to create art through light. Kichler established it's roots in designing and manufacturing lighting in 1938. With their midwestern values, Cleveland Ohio, serves as home based for this family business that has continued to prosper for 75 years. The challenge for Kichler has always been creating the right balance between style, technology and price. To stay true to their mission of providing quality, design and value, the Élan collection would need to poses these attributes. These artistic elements, combined with the energy efficiency and quality of light, makes this Kichler collection a one-stop shop for every modern home.
As an innovative lighting company specializing only LED! Élan makes a bold statement. These low wattage LEDs save energy, while providing a shower of light. LED's are very small, but their light output is huge , bright and powerful.The combination of geometric shapes, combined with cascading glass or crystal accent, metal or sheer color shades, creates a style all it's own. Élan offers complimentary collections that contain a theme, available in coordinating configuration, such as LED chandlers, LED ceiling fixtures, LED mini pendants, LED wall sconce, or LED bath vanity lights. Élan has designed modern sculptures of light that make a statement, or a subtle contribution to the atmosphere with light.
For more information go to Elan Lighting - http://www.lightkulture.com/m-97-elan-lighting.aspx
Élan, Modern Artistic LED Lighting By Kichler, Ready To Wow At LightKulture.com
"Kichler is the latest manufacturer to go all LED with the new Élan collection. I have discovered that the style, size, coordinating families and price points have made the Élan collection a great hit with out customers. We have trusted Kichler for years to provide well made, well priced, and readily available lighting products for residential and hospitality use. Next month at the Dallas International Lighting Market we will be meeting with our Élan representative to get the most up to date information regarding the line. I am particularly excited to see their new Icekubez collection. The previews I have seen look very exciting. Élan has filled a void in the modern lighting niche with exciting LED designs at a tremendous value. I am always looking for new trends to add to our site. We have doubled our offering of Élan due to the demand we have for these niche products" noted Susan.
About LightKulture
At LightKulture.com our mission is to offer the finest energy efficient contemporary lighting and light fixtures from around the world. We have assembled an exciting collection of the industries most innovative decorative and architectural lighting. We are proud to offer lighting solutions for both your home and work-life environments. Simplicity in design is complicated, function makes it last. Be inspired by our range of essential designs from well respected American and European manufacturers. In today's world, energy efficient lighting is as important as eco-friendly or green lighting fixtures, such as LED or CFL lighting. We offer the very best energy efficient lighting and light fixtures, both high value LED lighting fixtures and CFL lighting fixtures in modern and contemporary styles that provide quality, innovation and authenticity.
LightKulture.com
http://lightkulture.com
Email: sales(at)lightkulture(dot)com
Tel. 941-330-0422