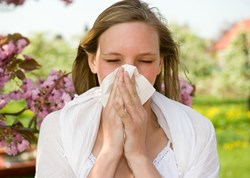 When stratified by gender, the incidence of blood cancers in response to allergens was increased in women but not in men. The reason for this is as yet unknown.
London (PRWEB UK) 20 December 2013
Medical research conducted over the last few years has sought to define the medical conditions that increase the risk for cancer, in a bid to discover better treatments, and to discover the immune's system's potential role in causing cancer. Several studies have shown distinct differences between the sexes in relation to allergies and cancer in the head and neck regions, specifically the immunoglobulin E levels and glioblastoma. 1
In general people suffering from various allergies showed a decreased risk for cancer, particularly those who reported a history of asthma, eczema, and hives. Those with over-reactive immune systems triggered allergies, suggesting an atopic/allergic phenotype such as you find in allergic and autoimmune disorders, which can affect the survival of cancerous cells. In some studies there was evidence of an inverse relationship, and in other studies a direct relationship was established. 2
Due to these conflicting reports, a team at the Clinical Research Division at Fred Hutchinson Cancer Research Centre surveyed a large base group from the SEER cancer registry, along with compiled data from the Vitamins and Lifestyle (VITAL) cohort study. The findings are published in the American Journal of Hematology, both online and in print. 3
The cohort study based at Fred Hutch, and authored by Mazyar Shadman, M.D., M.P.H. was conducted on a population size of more than 66,000 older adults in Washington state aged 50 to 76, who were followed for an average of eight years, found evidence that women with any airborne allergen had a 47% increase in risk for a hematologic cancer.
Further, the study looked at associations between the different subtypes of allergies and hematologic malignancies and found that a history of allergies to plants, grass and trees was significantly associated with mature B-cell neoplasms, one of four major categories of lymphomaIn addition, only women who hit the allergy trifecta had a 73% greater chance of developing a mature B-cell lymphoma or related disorder.
During the follow-up period, 681 people developed a blood cancer. These people were more likely to be male, to have two or more first-degree relatives with a history of leukaemia or lymphoma, to be less active and to rate their health status as poor.
The fact that of the study group, only women showed any links of allergies to cancer suggests there is something unique in a woman that causes chronic allergy-related stimulation of the immune system to increase vulnerability to the development of blood cancers.
There was also an increased risk of plasma-cell neoplasms for participants who reported a history of allergies to cats, dogs or other animals. Plasma-cell neoplasms are conditions, both cancerous and noncancerous, in which the body makes too many plasma cells. When stratified by gender, the incidence of blood cancers in response to these allergens was increased in women but not in men.
The reason for this is as yet unknown, but those at Fred Hutch state hormonal effects on the immune system and interactions with carcinogenesis may offer an alternative biological explanation that will require further mechanical studies. 4
References
1. http://www.plosone.org/article/info:doi/10.1371/journal.pone.0055138
2. http://www.sciencedirect.com/science/article/pii/0895435689901650
3. http://onlinelibrary.wiley.com/doi/10.1002/ajh.23564/abstract
4. http://www.fhcrc.org/en/news/releases/2013/11/study-finds-link-between-allergies-and-increased-risk-of-blood-cancers-in-women.html