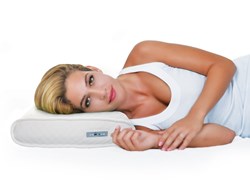 Our mission at Sleepow is to develop new solutions which help people fall asleep, stay asleep and wake up revived", says Cobi Gurievsky, CEO of Sleepow
(PRWEB) December 17, 2013
Following a year of development, Sleepow, Inc. (http://www.sleepow.com) announced the first fully integrated sleep music pillow created to promote relaxation, making it easier to fall asleep and wake up revived.
Numerous studies have shown that a lack of sleep and insomnia greatly increase stress levels, shorten attention spans and leave us more vulnerable to a variety of diseases. Experts in sleep disorders and psychoacoustics have found that relaxing music, particularly binaural beats (two tones played at slightly different frequencies in each ear), reduces stress levels and promotes relaxation, contributing greatly towards a restful night's sleep.
The Sleepow Music Pillow is crafted from the highest quality memory foam and features a fully-integrated stereo sound machine pre-loaded with Binaural Beats relaxation music. The queen size pillow with a plush outer cover completely encases and protects the high-quality speakers and wiring inside, rendering them completely undetectable. An unobtrusive, easy-to-use control panel embedded in the side offers volume and mode controls, a mini-USB port for recharging and uploading of mp3 files and an audio jack for private listening with headphones. No external wires, cables or portable media are required to enjoy Sleepow. Just press one button and quickly drift off into a deep, relaxing slumber.
"Our mission at Sleepow is to develop new solutions which help people fall asleep, stay asleep and wake up revived", says Cobi Gurievsky, CEO of Sleepow. "Multiple studies have shown the importance of music in achieving relaxation and this was the inspiration for creating the Sleepow Music Pillow. It is designed from the ground up to be an elegant, integrated solution which specifically addresses the ever-increasing problem of sleep disorders in our society."
"Over the last decade, the sleep products industry has seen very few significant innovative breakthroughs leading to new solutions", comments Prof. Nir Peled, M.D., an internationally recognized sleep expert and a member of Sleepow's Medical Advisory Board. "As a result, many sufferers of sleep ailments rely on hypnotics - or pills - to offer relief. Hypnotics have been shown to have dangerous, sometimes fatal, side effects. It would be reasonable to assume that many of those dependent on medication would prefer safer and cheaper alternative methods. Music has been proven to induce relaxation."
Sleepow will be showcasing the Music Pillow in it's booth at next month's Consumer Electronics Show in Las Vegas as well as the Housewares Show in Chicago in March 2014. The product is now available at the Sleepow website (http://www.sleepow.com) and at select online retailers.
For additional information on the news that is the subject of this release (or for a product sample) please contact Ethan Milgram- GM – US Operations, Sleepow, Inc.at 339-368-6969 or ethanm(at)sleepow(dot)com.