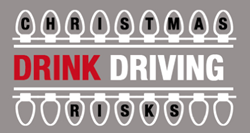 We want people to make the right decision and consider the potential consquences when drinking this Christmas.
(PRWEB UK) 16 December 2013
Richard Silver Solicitors, specialist driving and traffic offence solicitors, has released the Christmas Drink Driving Risks infographic to raise awareness of the dangers of drinking driving at Christmas. The Manchester-based group of solicitors has over 25 years' experience of providing a personal service on criminal and motoring cases, including speeding and drink driving. The infographic was an ideal method through which the team could share their knowledge of the risks of drink driving at this time of year and the potential repercussions.
The infographic uses a simple, yet effective design to demonstrate the journey of choosing to drink drive at Christmas. Most people in the UK like an alcoholic drink, but many will drink more than usual at Christmas and this can lead to bad decision making. Namely, choosing to drink drive and risking a range of consequences if you are caught, including fines and penalties, driving bans, a prison sentence, and of course a ruined Christmas.
One particular aspect of the risks of drink driving at Christmas that Richard Silver Solicitors was
eager to raise awareness of is driving the morning after drinking alcohol. On average people are five hours away from being sober enough to drive when they get behind the wheel. This is dangerous for them and the people around them, and if they are caught the consequences can be life shattering.
Richard Silver, Senior Solicitor at Richard Silver Solicitors and a nationally recognised motoring law expert, said: "We chose to visualise the risks of drink driving at Christmas, because we felt this would make it clearer how drink units consumed can quickly add up and how making the decision to drive can lead to consequences that quickly escalate."
With more than 25 years' experience of working on criminal and motoring cases, Richard Silver Solicitors provides a personal service for clients including lawyers, well-known actors and professional footballers. The group of solicitors are also regularly referred by other solicitors and barristers.
To view the infographic, visit: http://www.richardsilver.co.uk/news/drink-driving-risk-infographic/