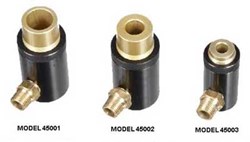 Toronto Ontario (PRWEB) December 16, 2013
The Nex Flow™ Air Jets take compressed air and entrain surrounding air to amplify Air Flow downstream reducing compressed air use for blow off and cooling applications. They move a tremendous amount of air utilizing the "Coanda" effect.
The Coanda profile used is unique to Nex Flow™ and optimizes the flow and force to make the Nex Flow™ Air Jets up to 25% more efficient than competitive units. The downstream air produced has high velocity and "laminar flow" for strong blow-off and cleaning power. The high flow also does excellent cooling.
The Nex Flow™ Air Jets are light weight anodized aluminum and are adjustable to "set" the right force or flow required for any particular application. A lock ring keeps the desired "set gap" in place.
Advantages:

No Moving Parts
Quiet
Compact
Portable
No Electricity
Low in Cost
Superior in Design and Performance
Three Models are Available:
Model 45001 - High Flow Air Jet used for cooling and light blow-off while
Model 45002 - High Force Air Jet used for heavier blow-off applications and part ejection.
Model 45003 - Mini Air Jet is the most compact air jet with high force for tight spaces.