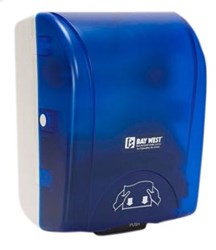 Solutions can be put in place to reduce wast, time, cost and environmental impact within your washroom.
(PRWEB UK) 18 December 2013
A number of issues can arise in regards to toilet tissue such as waste when rolls are removed from dispensers before being completely depleted, contamination from other users and even pilfering. A good dispensing system can go a long way in preventing waste, theft, contamination etc. Dispensing systems are available that are designed to hold multiple rolls of toilet tissue yet will only allow a new roll to be accessed after one is depleted which means less time refilling the unit and less waste as a result of changing the rolls. These systems can also only be opened with a key which eliminates the issue of pilfering. The unit is transparent which means it is clear when it needs to be refilled. These dispensing systems are also Eco-label certified so you can be sure they have been responsibly produced.
There are also a range of issues that can occur with the dispensing and use of hand towels such as unnecessary amounts being taken in the hand drying process or time being spent on the refilling of the unit. Systems are also available to reduce these issues (once again Eco-label certified). These units are high capacity dispensing systems which means they do not need to be refilled as regularly as most systems. These systems come in a wide range to accommodate most hand towel varieties. It is recommended that interlocking towels (such as V fold or Z fold) be used to reduce large quantities being dispensed at the same time which will result in less wastage which in turn means less money spent.
Finally we move on to soap dispensers which can be misused and leave soap on washroom surfaces which can be a health hazard if it makes the floor slippery, they may also take up time by needing to be regularly refilled or topped up. A good solution to issues with hand soaps making a mess within your washroom is to switch to foam soap. Foam soaps come in a wide variety from soaps designed for general cleanliness, to food hygiene, to sanitation without the need for water and even to an Eco-friendly option. This soap is easier to clean and is less slippery than conventional liquid soaps when on washroom surfaces as well as having the additional benefits of lasting three times longer and requiring less water when washing hands. The dispensers for these soaps are also Eco-label certified proving they are responsibly produced with minimal impact on the environment.
For more information on money saving washroom solutions and to view the products discussed, visit http://www.vitadirectuk.com
Vita Direct is a cleaning products provider based in North East England which specialises in a range of solutions aimed at saving you money, waste and time.