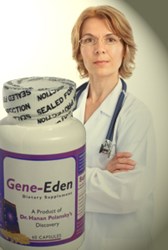 Many parents know that the Epstein Barr virus can cause meningitis. Many do not know, however, that the Cytomegalovirus can also cause the disease. - polyDNA
Rochester, NY (PRWEB) December 18, 2013
Many parents know that bacterial meningitis can be deadly. Less well known is the fact that viral meningitis is relatively common, and can also be a very serious disease. polyDNA has learned that viral meningitis sent four male college students from Lebanon, Tennessee to two separate hospitals. The students were treated in emergency rooms (1). Meningitis is an inflammation of the protective membranes covering the brain and spinal cord, known collectively as the meninges. It is well-known that "because of close contact with peers, teens and college students are at greater risk" of developing viral meningitis according to WebMD on a page last reviewed on August 12, 2012 (2).
In the beginning, doctors usually cannot tell the difference between bacterial and viral meningitis. As a study published on January 5, 2008 in the medical journal BMJ noted, "At initial presentation, no reliable clinical indicators are available to differentiate between acute viral meningitis and bacterial meningitis, so all suspected cases should be referred to (a) hospital (3)." In addition, "Viral meningitis and bacterial meningitis are both characterized by acute onset of fever, headache, photophobia, and neck stiffness, often accompanied by nausea and vomiting (3)."
"Viruses that lead to meningitis are those that cause chickenpox, mononucleosis (viruses such as the Epstein Barr Virus and the Cytomegalovirus), and herpes. Symptoms can be similar to those of bacterial meningitis (2)."
Many parents know that the Epstein Barr virus can cause meningitis. Many do not know, however, that the Cytomegalovirus can also cause the disease. When CMV is to blame, the condition shows up as a complication of CMV mononucleosis. As an article on Parents.com noted "the same virus that causes mononucleosis can cause meningitis." The article was published in 2012 (4).
Thus, polyDNA recommends targeting the latent EBV and CMV with Gene-Eden-VIR to help the immune system target these latent viruses more efficiently. "We believe that parents should consider giving their kids, teens, and college age students Gene-Eden-VIR. This natural supplement was designed to help the immune system target latent viruses. Moreover, it was clinically proven to reduce symptoms of EBV and CMV infections." - Mike Evans, polyDNA
Gene-Eden-VIR is designed to fight against the latent EBV and CMV. A recent post marketing clinical study showed that Gene-Eden-VIR is safe and effective. Up to 70% of those studied reported a decrease in viral symptoms. (5)
Each ingredient of Gene-Eden-VIR was chosen through a scientific approach. Scientists scanned thousands of scientific and medical papers published in various medical and scientific journals around the world to identify the safest, most effective natural ingredients that target the latent form of EBV and CMV. (5)
To learn more about Gene-Eden-VIR, visit http://www.gene-eden-kill-virus.com. All orders of Gene-Eden-VIR are completely confidential, and no information is shared or sold to any third party. Privacy is assured.
References:
(1) Students contract viral meningitis. Published on December 12, 2013.
http://www.lebanondemocrat.com/article/305056
(2) Meningitis: 12 Frequently Asked Questions. Last reviewed on August 12, 2012.
http://children.webmd.com/vaccines/meningitis-12-frequently-asked-questions
(3) Viral meningitis. Published on January 5, 2008.
http://www.ncbi.nlm.nih.gov/pmc/articles/PMC2174764/
(4) Mono Signs and Symptoms. Published in 2012.
http://www.parents.com/kids/health/other-health-issues/mononucleosis/
(5) Gene-Eden-VIR Is Antiviral: Results of a Post Marketing Clinical Study. Published on August 12, 2013.
http://gene-eden-kill-virus.com/PP_Gene-Eden-VIR-is-Antiviral.pdf
polyDNA is a biotechnology company that develops dietary supplements using the unique scientific method developed by Dr. Hanan Polansky, which is based on Computer Intuition.
In addition to his unique scientific method, Dr. Polansky published the highly acclaimed scientific discovery, called Microcompetition with Foreign DNA. The discovery explains how foreign DNA fragments, and specifically, DNA of latent viruses, cause most major diseases.
polyDNA developed Gene-Eden-VIR, an antiviral natural remedy that helps the immune system kill latent viruses.