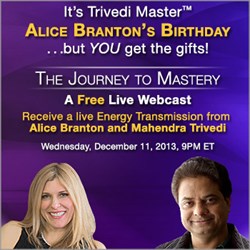 (PRWEB) December 17, 2013
On December 11, 2013 at 9PM ET, people from all over the world, sat down to watch a live webcast, organized through Trivedi Master Wellness™, in honor of the recently designated Trivedi Master, Alice Branton's birthday. Hosted by Fred Poneman, the webcast, called "The Journey to Mastery" featured valuable discourses from Mahendra Trivedi and Alice Branton and culminated in a free, live energy transmission given to all those who were registered for the event. Participants enjoyed the joyous atmosphere throughout the call as Mahendra Trivedi, Alice Branton and Fred Poneman shared their knowledge and wisdom. Following the energy transmission viewers were invited to share their experiences and Mahendra Trivedi addressed questions raised by participants.
During the webcast viewers heard how Mahendra Trivedi acquired the ability to transmit a powerful Universal Energy through the direction of his thoughts, known as The Trivedi Effect®. They learnt how this energy has the ability to transform both living organisms and non-living materials and heard how this Energy had not only transformed the life of Mahendra Trivedi himself but also the lives of thousands of others. People heard how The Trivedi Effect® had been rigorously tested and validated in over 4000 scientific experiments and were given a glimpse of some of the results. They heard how, under stringent scientific conditions The Trivedi Effect® had transformed; animals, plants, trees, seeds, microbes, metals, polymers, ceramics, cancer cells and even the structure of an atom. People heard how The Trivedi Effect® has been successfully applied to agriculture, animal husbandry, microbiology, material science and how in recent studies it has been applied to the concepts of rejuvenation and anti-aging.
Viewers heard how Alice Branton had been divinely chosen to be the Trivedi Master™ and had been gifted with incredibly powerful abilities that closely resemble those of Mahendra Trivedi himself. Alice spoke of her journey to mastery.
Participants heard how Alice, born in America, had grown up in a small Southern town, following a common American dream to be successful and accumulate material wealth. They heard how Alice worked hard to realize these dreams but despite her eventual success felt deeply unfulfilled with her life. People heard how she chose to move away from the life she had created in search of something more meaningful. She described how she felt a strong desire to help people and to find ways to raise her own level of consciousness. Alice described how she met Mahendra Trivedi and how, from his presence and the science, she immediately recognized the enormous potential this energy had to transform humanity and the world. She described how at that moment, she devoted her life to helping Mahendra Trivedi and his mission, in any way she could to utilize this energy for the good of all. Alice described how receiving Energy Transmissions on a daily basis transformed her life and the lives of those around her and how her role gradually and unexpectedly unfolded to arrive at the point of receiving this greatest gift of all, divine designation as a Spiritual Master. Alice Branton spoke of her profound gratitude and deep commitment to supporting Mahendra Trivedi and of her deep desire through this role, to help humanity and the world transform.
Mahendra Trivedi discussed how The Trivedi Effect® works to optimize human potential so that people may start to serve a greater purpose in life. Based upon testimonials from thousands of people who have already experienced The Trivedi Effect® Mahendra Trivedi described the most commonly experienced short term and long term benefits that people receive through The Trivedi Effect®. Mahendra Trivedi also explained how each person may experience different outcomes from The Trivedi Effect® and that every person's transformation was unique to them. Incredibly people learned how some of the people who had been regularly receiving Trivedi Energy Transmissions were now developing the phenomenal ability to transmit energy themselves. People saw how some of these individuals had demonstrated their own ability to harness Universal Energy and transform plants and seeds.
The evening reached an eagerly awaited climax when participants on the call were able to experience The Trivedi Effect® for themselves. People located all over the world , in the comfort of their own homes, sat in silence as Alice Branton and Mahendra Trivedi gave a live energy transmission simultaneously to all those who had registered for the call.
Following the transmission Mahendra Trivedi gave an extended session where he addressed queries raised by participants and heard their experiences. Fred Poneman discussed the benefits of receiving regular Energy Transmissions and invited participants to join an optimally transformational program called a 'Month of Total Transformation' where participants would attend three webcasts and receive live group energy transmissions from Mahendra Trivedi . In addition they would receive one even stronger remote Individual Master Energy Transmission from Alice Branton to be administered whist participants are in their most receptive state, during sleep.
Participants were thrilled with all aspects of the webcast and are now experiencing the benefits of the Energy Transmission they experienced. Many individuals have already registered to receive further Energy Transmissions and continue their own journey of transformation through programs offered through Trivedi Master Wellness™.
To find out more about further programs available please view the Trivedi Master Wellness™ Website at: http://www.trivedimasterwellness.com/programs