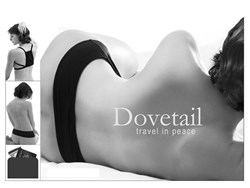 "A must for women who love to travel" ~ WanderWoman, Erja Lipponen
(PRWEB) December 18, 2013
Alex Ivory is the COO of Dovetail travel in peace; the innovator and producer of the 'travel safe body bands' for women. She developed the travel bands specifically to secure the passport, bank cards and extra travel cash comfortably 'on the body' under the clothes. The travel bands for women are now available in two sizes, small/medium (US 4/6/8) and medium/large (US 10/12/14) in both black and nude.
The ultra light, strong, semi-sheer, stretch, power-net travel bands give women travelers two, new travel safe options; the "travel wing', worn on the upper body over the bra, and the travel band, worn on the hips over the underwear, are sold as a set. The traveler chooses which to use and when.
The 'travel safe body bands' by Dovetail travel in peace are based on the premise that anything shown, apparent or constantly accessed can be easily taken from travelers. The travel bands hold to the body-in-motion, securing and secreting travel essentials from potential thieves. Any access should be done in private. Except for a small clasp at the front of the travel wing - no additional hardware is used. An across the body purse can be used to access daily travel 'get-around' money and other necessities.
Three years ago, while in the process of developing the prototypes, Ivory made the following promises to herself;
1. Do not fall in love with it.
2. Do not spend all your money.
3. Do not let the travel bands be 'lingerie like'.
Ivory subsequently broke all of the above promises and 'got on the learning curve'. Based on the initial product sample reviews, she has made some nuanced changes to her original, first cut edition, essentially producing two sizes and making the travel bands easier to set up. The portfolio has been changed in order to facilitate easier insertion into the bands, the proportions have also been adjusted and are now more user friendly.
Ivory carried '9 shades of nude' around the world for a year until she finally went back into production this past summer. Ivory spent hours going over details with her patternmaker, making sure that all aspects relating to both the proportions and the portfolio were attended to.
"As women are often seen as 'easy targets' for thieves, I wanted to find a way to protect women and their essentials while out exploring the world, so as to maximize the travel experience and minimize any mishaps," says Ivory.
A former dancer, with a degree in Art History, Ivory has been living, working and traveling internationally for 25 years, for the most part working as a Business Trainer at Fortune 500 companies. She has also been involved in product development, design and marketing in a range of product arenas.
"I envisioned the 'travel safe body bands' by Dovetail travel in peace to reflect an evolved approach to travel safety for women offering a more modern, streamlined silhouette; cohesive, symmetrical and held to the body-in-motion," says Ivory
Ivory is currently seeking partnership and licensing opportunities in order to further shape, perfect and market the 'travel safe body bands' by Dovetail travel in peace internationally. Additional travel products are in the works and will be available for spring/summer 2014. Patent Pending