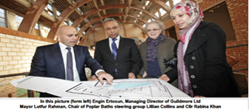 "A great place to live"
Poplar Baths, Tower Hamlets (PRWEB UK) 19 December 2013
We are excited to have hosted the first official celebration for the restoration of the Poplar Baths redevelopment. On 17th December 2013 at 12.30pm Lutfur Rahman, Mayor of Tower Hamlets, presented an award to celebrate the new artwork designed by local schools that will be posted onto the hoardings surrounding the Poplar Baths development. Over 100 people will attend.
Guildmore is encouraging the local community to be as involved in the project as possible and this begins with a celebration to mark the commencement of the project, which will feature participation of local school children and the Mayor of Tower Hamlets.
The Poplar Baths project, which was announced earlier this year, will transform Poplar Baths into a brand new leisure centre facility with a state of the art swimming pool as well as create 60 new homes for local people. Alongside this development, Guildmore will also create a separate site in Stepney, to provide a new youth centre and homes at Haileybury and Dame Colet House, creating more homes and facilities for the local community.
Following a procurement process, Tower Hamlets council selected Guildmore to restore the Grade II listed building. With an increased demand for affordable housing in the area, the local council are certain that this project will, not only, generate more housing but will also reinforce Tower Hamlet's image as 'A great place to live'.
Guildmore Managing Director, Engin Ertosun, is leading the project to encourage residents to look at the development as a chance to gain employment opportunities and training. Guildmore is committed to ensuring that local residents make up the workforce and by working with Skillsmatch, aims to find workers through local agencies. Guildmore will also host school workshops, site visits and 'digger days', as well as offering apprenticeships to develop young people's employability.
Mayor Lutfur Rahman is honouring the local schools involved in creating the drawings by presenting an award and formally announce the commencement of the redevelopment work so that the project can officially get underway. There will also be music and refreshments available in a large marquee. Members of the press are welcome to attend.
For more details, visit: http://www.guildmore.com/news/guildmore-focus-on-training-at-tower-hamlets.