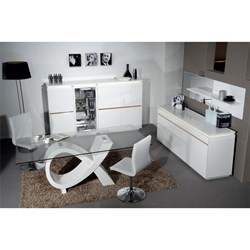 (PRWEB UK) 18 December 2013
In what is being touted as another feather in its cap, Furniture in Fashion has been recognized by National Landlords Association as one of its esteemed suppliers. With this achievement, Furniture in Fashion has strongly announced its arrival in the space of fashion furniture, both for business purposes as well as residential purposes. The managing director was ecstatic to disclose the news. In an official statement released to the press, the MD said, "It is a great news for the owners and the employees of Furniture in Fashion. Our hard work has been acknowledged. We shall leverage upon this and deliver to our customers what we have promised. We have something to offer for landlords of all genres, whether ones who are on shoe-string budget who are looking to build economy homes as well as ones who are looking to build high-end luxury apartments."
Being recognized by National Landlords Association is no mean task. They have strict quality checks and benchmarks to adhere to. The checks include gauging the financial stability of the suppliers, checking its products and services, getting testimonials from other suppliers who are already associated with NLA and finally referring the supplier to the panel of decision makers where verdict is given based on the majority. What's more, even after being recognized as a supplier, suppliers cannot breathe easy. Any complaint against any of the suppliers is strongly dealt with and appropriate actions are taken. With Furniture in Fashion now being recognized by NLA, landlords can safely rely on its authenticity and quality.
Finalizing a supplier can be a daunting task for landlords. There are various things that you have to look at before zeroing in on one particular supplier. Even after that you are never sure of the results. On the other hand, if you are dealing with suppliers identified by NLA, you are spared of all the hassles of looking for a reliable supplier. This is where suppliers like Furniture in Fashion are a safe bet. As a landlord, you have a lot to gain using the services of Furniture in Fashion. Having passed the strict audit by NLA, one can blindly rely on the services offered by Furniture in Fashion. As a member of NLA, you can read its reviews and check what others have to say. Apart from that, the members of National Landlords Association are given preferential treatment by the suppliers who are recognized by Recognized Supplier Scheme.
Defined as a UK-Based retail online store, Furniture In Fashion provides quality furniture from direct German based warehouse. It also has a vital showroom in Bolton, UK, for the betterment of the customers. This company is known for offering sofas, dining table products and other noteworthy furniture, at reasonable rates. It has gained immense name and popularity die to its successful customer services. For more information, please visit the official site at http://www.furnitureinfashion.net/.