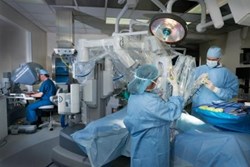 "Patients at NWH are receiving leading edge surgical care through our multispecialty robotics program. Now,as a designated training facility, we are able to share this surgical expertise & best practices with other hospitals nationally," stated Dr.Wishner
Westchester County, NY (PRWEB) December 17, 2013
Northern Westchester Hospital announced today that it has been designated a Case Observation Center for robot-assisted surgery by Intuitive Surgical, maker of the da Vinci robotic surgical system. As a certified training site, NWH will host visiting surgeons from across the United States each month to observe and learn advanced procedures from Jerald D. Wishner, MD, FACS, FASCRS, Co-Director of the Institute for Robotic and Minimally Invasive Surgery and Medical Director of the Colorectal Surgery Program. Dr. Wishner is the first surgeon in the region to utilize advanced robotic technology for patients requiring colon resection for both benign and malignant disease. He is also the first to provide single incision robotic surgery for patients requiring gallbladder removal allowing the entire surgical procedure to be performed through a one-inch incision hidden in the belly button, resulting in virtually scarless surgery.
"Patients at Northern Westchester Hospital are receiving leading edge surgical care through our multispecialty robotics program. Now, as a designated training facility, we are able to share this surgical expertise and best practices with other hospitals nationally," stated Dr. Wishner. "Many patients undergoing da Vinci robot-assisted surgery can benefit from reduced pain and trauma to the body, smaller scars, less blood loss, a shorter hospital stay, and in many cases a faster recovery."
Surgeons at Northern Westchester Hospital perform the highest volume of robotic surgeries in the region utilizing two da Vinci robotic surgical systems. The hospital's multispecialty robotics program includes expertise in colorectal, urology, gynecology, oncology, and general surgical procedures. NWH surgeons are utilizing the da Vinci Si robot with 3D high-definition imaging technology, which is the most advanced minimally invasive robotic surgical system available.
Robot assisted surgery requires a great deal of training. In addition to learning by observing surgical cases at Northern Westchester Hospital, surgeons are able to utilize a training simulator to master various robotic surgery techniques. This system works similarly to a flight simulator that pilots use when training to fly jet airplanes. The device simulates a surgical environment, enabling surgeons to gain greater familiarity with instrumentation and perfect the skills necessary to meet the stringent requirements for performing robot-assisted surgery.
About Jerald D. Wishner, MD, FACS, FASCRS
Jerald Wishner, MD is the Co-Director for The Institute for Robotic and Minimally Invasive Surgery and the Medical Director for the Colorectal Surgery Program at Northern Westchester Hospital. Dr. Wishner is Fellowship trained in both colorectal and minimally invasive surgery, has received advanced training in robot-assisted surgery, and has been designated as a trainer for robot-assisted General and Colorectal surgery by Intuitive Surgical.
Dr. Wishner performs advanced colon resections using robot-assisted surgery for both benign and malignant disease and is one of the first surgeons in the U.S. to conduct single incision robot-assisted gallbladder removal surgery (cholecystectomy). He has published numerous articles in the field of general surgery and helped develop minimally invasive surgical techniques for a variety of procedures including colon resection for benign and malignant disease, gallbladder removal, anti-reflux surgery for hiatal hernias and chronic heartburn, hernia surgery, pancreatic and splenic surgery.
About Northern Westchester Hospital
Northern Westchester Hospital (NWH) provides quality, patient-centered care that is close to home through a unique combination of medical expertise, leading-edge technology, and a commitment to humanity. More than 700 highly-skilled physicians, state-of-the-art technology and professional staff of caregivers are all in place to ensure that you and your family receive treatment in a caring, respectful and nurturing environment.
NWH has established extensive internal quality measurements that surpass the standards defined by the Centers for Medicare & Medicaid Services (CMS) and the Hospital Quality Alliance (HQA). Our high-quality standards help to ensure that the treatment you receive at NWH is among the best in the nation. For a complete list of our services, please visit http://www.nwhc.net.
###
Contact:
Mark Vincent
Northern Westchester Hospital
914.666.1200