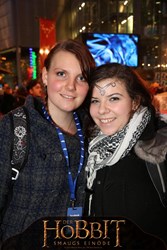 dwinQ's platform made it frictionless for guests to share...and created a highly effective native advertising promotion for Warner Brothers"
Berlin, Germany (PRWEB) December 19, 2013
Facebook hired dwinQ, the first social media operating system for events, to enhance the Hobbit premier experience for 500 VIP guests and at the same time create viral content on their News Feed. Professional photographers with dwinQ's patent-pending platform were capturing exciting moments on the red carpet and scanning each RFID-enabled VIP pass so that the professional grade pictures posted in real time to Facebook on the VIP's News Feed. These pictures were seen by more than 132% of each guest's friends – a measurable viral impact during the launch given the fact that each guest had on average 240 friends.
"The guests loved the fact that their friends could see them with the movie stars on the red carpet in real time. The best part was that the VIP's enjoyed the moment and had a great time.' Commented Elke Karskens Facebook's platform Marketing & Communications Manager, "dwinQ's platform made it easy to share and by putting the Hobbit logo on a frame before the photo posted, boosted the prominence of the movie branding."
"Social media at events will be one of the biggest trends for marketing in 2014. It's genuine content from the guests and it is very effective native advertising, or product placement on social media. If you sponsor that content with Facebook's advertising platform it becomes even more powerful" explained Patrick J. Sweeney II President and CEO of dwinQ
dwinQ's social media operating system is a cloud-based platform that securely manages the identity of guests, individual sign on mechanism (such as RFID cards, bracelets, NFC chips, mobile phones, QR codes etc.) and correlates each identity to a specific social media account such as Facebook or Twitter with seamless accuracy and security. Guests can opt-in to have dwinQ post photos or videos from an event in real time and have those photos show up on their News Feed and timeline so they can share the moment without lifting a finger. On-site the dwinQ platform is connected to very high quality digital SLRs and self-serve photo or video kiosks. There are more than 600,000 people on the dwinQ platform world-wide sharing their precious memories.
Facebook has engaged dwinQ's platform at events world wide for the past two years.
About Facebook
Founded in 2004, Facebook's mission is to give people the power to share and make the world more open and connected. People use Facebook to stay connected with friends and family, to discover what's going on in the world, and to share and express what matters to them.
About dwinQ :
dwinQ is the first company to create a social media operating system for events, that connects events, guests and social media seamlessly and in real time. dwinQ clients can own the News Feed – the most valuable real estate in social media. Event guests can opt in to use dwinQ's platform to instantly and frictionlessly upload professional grade photos and videos from events. Event sponsors and advertisers get unprecedented value by creating highly effective native advertising as dwinQ's platform overlays a logo, brand message or offer before each photo or video is posted. At events guests connect via RFID, NFC, Bluetooth, QR code and other proven identifiers.
dwinQ was started in 2012 by a group of experienced entrepreneurs in Cambridge, MA with the goal of connecting guests who are doing something fun with their friends without taking them out of the moment.. The company has more than tripled its events year over year. Currently dwinQ's platform connects over 600,000 people to their social media channels. For more information about dwinQ visit http://www.dwinQ.com or stop by the company's offices at the Cambridge Innovation Center in Kendall Square, Cambridge Massachusetts.