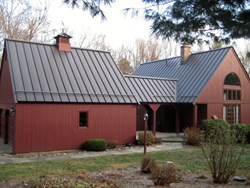 Although metal roofing is a great alternative, many consumers just simply don't know the first thing about them.
Stow, MA (PRWEB) December 18, 2013
Classic Metal Roofs LLC is pleased to announce the launch of their new and improved website, classicmetalroofs.com. The site makes comprehensive information regarding the ins and outs of energy efficient metal roofing more accessible to consumers and businesses considering a re-roofing project, or the design of a new building.
The company, Classic Metal Roofs, LLC, has established itself over the last decade as an authority on all aspects of metal roofing. The company works with homeowners, architects and contractors to provide a better understanding of the benefits of the various types of metal roofs. Metal roofs are not only more energy efficient than alternative roof types, they offer a distinctive beauty that cannot be matched.
Approaches range from the classic "Standing Seam" type aluminum roof design, with vertical panels, to metal shingles that mimic wood or slate shingles very convincingly, to elegant copper and zinc roofs. Many home and business owners are unaware of the benefits that metal roofs can offer them; the new website includes a wide range of information tailored specifically for individual needs.
A section for architects and designers includes links to technical bulletins that explain the finer points of metal roofing. Home and business owners will appreciate the "Insider's Guide to Roofing," and various articles authored by Mike Gonet, senior partner of the firm. There are also numerous project photos that offer are a wealth of ideas for anyone brainstorming a potential roofing project.
"We're pleased to provide consumers and businesses with access to such a wide range of helpful information," Gonet said. "Although metal roofing is a great alternative, many consumers simply don't know the first thing about them, which can result in a real fear of the unknown, causing them to reject a great option out of hand. It may sound trite, but we really do believe our best customer is an educated customer, and by helping them come to the right decision, we can help ensure that they select a roof that will both save the owner money in the long run, look beautiful and provide a sustainable passive energy efficient roof for decades to come. The last roof their home will ever need. Visit our new website, with its extensive resources on metal roofing alternatives."
About Classic Metal Roofs, LLC:
Classic Metal Roofs, LLC is considered one of the premier installers of metal roofing in New England. They specialize in the installation of lifetime residential metal roofing systems for people who want energy star, environmental, sustainable, or long term solutions for their roofing needs. They believe their metal roofs are 'The Best Roofs under the Sun' and are in business to provide their customers with a worry-free roofing future. Their service area includes Massachusetts, Connecticut, Rhode Island, and Southern New Hampshire. Classic Metal Roofs, LLC works with contractors, architects, and homeowners.