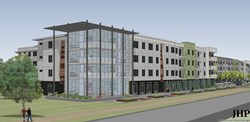 Working with Stephanie has been great. The wow-factor for a clubhouse is really important. It sets the tone for the property, and she doesn't disappoint; she always delivers.
Dallas, TX (PRWEB) December 17, 2013
Embracing the evolving principles of sustainable urban design, interior design firm Moore Design Group and Dallas-based multifamily developer Zale Corson Group, Inc. have reunited to work on a multifamily project located in the center of a mixed-use, transit-oriented development. Dubbed The Standard at Cityline, the new rental community is surrounded by a live-work-play project that incorporates various demographic and economic trends encouraging a compact, pedestrian-friendly environment for urban living.
The 18.6 acre tract for The Standard is located at the intersection of George Bush Turnpike (PGBT) and Central Expressway (US 75), east of the existing PGBT DART light rail station, and will include 836 multifamily residential units, retail-ready ground floor space, structured parking and planned streetscape amenities. The first phase, which includes 403 units, is underway and will be available to renters in the fourth quarter of 2014.
Moore Design Group, known for progressive and bold metropolitan motifs and led by Principle Stephanie Moore-Hager, was engaged to create the interior designs for the urban multifamily project. By combining modern and transitional elements that blend seamlessly into functional livable space, MDG's design for The Standard at Cityline fits the surrounding environment and captures the essence of the area with their selection of surface materials and fabrics.
Finding inspiration in the architectural elements and details created by JHP Architecture, Hager said she and her team strived to give the future resident, architect and owner a reason to take pride in this distinctive project.
"Working with Stephanie has been great," Mark Zale, President of Zale Corson Group, Inc said. "The wow-factor for a clubhouse is really important. It sets the tone for the property, and she doesn't disappoint; she always delivers."
Hager is known to be the creative force behind every project and is engaged in every aspect of the development from creation to completion; always striving to present concept and design fused into every element that you touch, feel and even breathe.
The designer/developer duo initially teamed up in 2006, and they continue to build on the success of their previous multifamily ventures.
Tribeca, a 398-unit property developed in 2008, is a unique luxury community that offers a variety of housing types including mid-rise, townhome, loft and traditional garden-style units. MDG's design delivers an urban atmosphere in a relaxed setting that combines inspiring modern architecture and art with lush landscaping and unrivaled amenities. The property boasts an elegant, two-story clubhouse that features lounge areas for socializing and a vast array of amenities, including an Internet café, media room with TV and DVD library, gaming area and fully-appointed business center.
The sister property to Tribeca, The Encore is a 240-unit, Class A apartment community in Plano that combines luxury, urban style and upscale amenities in a convenient central location. Thoughtfully designed for comfort and convenience, MDG implemented a warm color scheme, geometric lines and unique ambient lighting to provide an easy, modern vibe. The property amenities include a club house with a business lounge, latte bar, fitness studio and resort-style pool.
Together, MDG and Zale Corson have perfected a thoughtful, collaborative design process that merges all aspects of a multifamily project. Understanding the value of a well-designed transit-oriented development and other sustainable urban designs, MDG continues to lead the industry in revitalizing trends that define city living.
---
Established in 1991, Dallas-based Moore Design Group has earned a reputation as the leading designer of multifamily living communities in the United States. Lists of projects, media coverage, awards, team bios, photo galleries and more are available at mooredesigngroup.net.