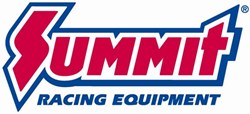 Tallmadge, OH (PRWEB) December 17, 2013
Ideal for tow vehicles, SUVs, crossovers, and other vehicles with limited vision, VDO camera systems can be used to eliminate blinds spots around the vehicle and improve overall maneuverability. The cameras feature normal/mirror modes, a fully waterproof, vibration-resistant housing, and infrared LEDs for night vision. The 120 Degree Cameras are available in rear- and side-view versions—ideal for towing and maneuvering a larger vehicle. The Mini Rear-View Cameras are perfect for parking and backing up—some even have built-in parking guide lines.
Summit Racing also offers VDO Video Displays for use with the cameras. The 5.6 inch display can accommodate two cameras; the 7 inch displays are available with inputs for two and four cameras. Camera and display kits are also available.
LINK TO VDO CAMERAS AT SUMMIT RACING
Summit Racing Equipment
http://www.SummitRacing.com
1-800-230-3030