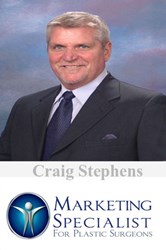 You are a Plastic Surgeon. Let me help you promote your name as a local expert in Plastic Surgery in all the media channels. I'm Craig Stephens, a Plastic Surgeon Marketing Specialist.
Key Largo, FL (PRWEB) December 18, 2013
Marketing Specialists for Plastic Surgeons has been hard at work speaking with local media about their new contest, according to the agency's founder, Craig Stephens. The contest, which will award a plastic surgery procedure to the contestant that tells the most "passionate and authentic" story of why they want a particular procedure performed, will accept 500 applicants in five cities nationwide, with each city set to have one winner.
Contestant's entry forms are currently being accepted in Miami, FL, Houston, TX, Dallas, TX, New York, NY and Los Angeles, CA, and will be followed by Atlanta, GA, Phoenix, AZ, Boston, MA, San Diego, CA and Seattle, WA in early 2014.
"We see this as a fantastic opportunity for the local media and the local community to begin an engaging conversation about plastic surgery and its ability to positively affect a person's life," said Stephens. "The stories that we have received so far prior to the contest are extremely powerful, and we expect many people will want to hear them."
"It's the human interest story that can capture people's emotions and really engage them, and this effect is increased because of its being based in their own community," said Stephens. "We can't wait to show some of the stories that we've received. They really are that powerful, and they could engage others that have something that would like to change but have not considered a plastic surgery procedure, themselves."
According to Stephens, plastic surgery has changed so much in the last decade that many folks don't know about the new lower-cost procedures that do not require conventional surgery and are a lot less intrusive. Recovery times have also been severely reduced. Stephens hopes that prospective patients are encouraged to revisit the idea of having a procedure performed.
To add to that encouragement, Marketing Specialists for Plastic Surgeons has plans to open a new forum in December called" talkingplasticsurgery.com" , where anyone interested in a surgical procedure can interact with others that share similar concerns.
"It really is a golden opportunity for someone to be updated on all the big changes the industry has experienced in recent years," said Stephens.
Applicants interested in the contest can sign up on http://www.FreePlasticSurgeryContest.com
About Marketing Specialists for Plastic Surgeons:
Florida-based Marketing Specialists for Plastic Surgeons is a company directly involved in developing marketing techniques for both the cosmetic and plastic surgery industries. The company is owned and operated by Craig Stephens.
For further information,please contact Craig Stephens at: replies[at]talkingplasticsurgery[dot].info