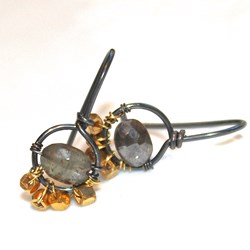 Washington, DC (PRWEB) December 17, 2013
We are pleased to announce FizzCandy Jewelry, in association with The Artisan Group, will participate in an invitation-only luxury celebrity gift lounge hosted by GBK Productions on January 10-11, 2014 at an exclusive location in Beverly Hills, California, in honor of The 2014 Golden Globes Nominees and Presenters.
FizzCandy's "Druzy Seashell Necklace with Ethiopian Opal" and "Herkimer Diamond Gold Stacking Necklace" will be prominently featured on display at The Artisan Group's exhibit. All attending celebrities will receive "Sapphire and Oxidized Silver Hoop Earrings" in their swag bags. This event will also be attended by nearly fifty press and media outlets.
Payton Bartos, the creator of and designer for FizzCandy Jewelry, is a 14-year-old high school student. With help from her mother, Mila Bartos, Payton juggles school and sports with the demands of designing jewelry and learning how to run a business. "It's not always easy," says Bartos, "and my parents always insist that school comes first. But I love designing jewelry."
FizzCandy Jewelry specializes in creating exquisite handcrafted jewelry using hand selected and special varieties of the finest genuine gemstones and materials. Favorite gems include watermelon tourmaline, kasumi style pearls and Ethiopian opals. Mila and Payton Bartos are residents of Washington, DC.
To learn more about FizzCandy Jewelry and our products, or our participation in this exclusive event, visit http://www.fizzcandy.com, call 202-256-1390, or email bartosmila(at)mac(dot)com.
For press inquiries regarding The Artisan Group, please visit http://www.theartisangroup.org.