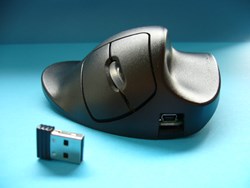 Drs. Ing. Paul C. Helder, CTO of Hippus: We believe it's time to show the world that we are producing the ergonomic HandShoe Mouse with a great deal of confidence: it helps to protect our customers against all sorts of mouse-related pains!
Breda, the Netherlands (PRWEB UK) 18 December 2013
Hippus N.V., owner and producer of the truly ergonomic HandShoe Mouse is proud to announce that it now offers a three (3) year warranty on all of its Light Click (LC) HandShoe Mouse models.
Although most (ergonomic) mouse suppliers only offer a one year warranty, the company is confident that a three year warranty will confirm to customers, both current and prospective, that Hippus is a reliable supplier and believes in the quality of its ergonomic mouse.
Claiming on the warranty is subject to providing all of the following information via email to Hippus in the Netherlands.
1. Email address and country of user
2. Phone number of user
3. Local supplier of the mouse
4. Mouse type (wired or wireless) and size (Large, Medium, Small or Extra Small)
5. Mouse serial number (visible on bottom of each mouse)
Warranty questions or claims can only be processed when all of the above information has been provided. As most of the current HandShoe Mouse warranty questions result from incorrect use, Hippus is able to solve most issues via email or over the phone. The company provides world wide support from its office in the Netherlands.
Warranty also valid for previously bought LC models.
This three year warranty will not only be valid for all newly sold HandShoe Mouse LC models but also for all previously sold LC models. This means that customers who have bought the HandShoe Mouse within the past three years are also eligible for the three year warranty.