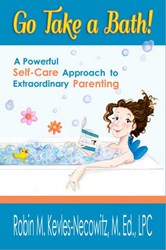 You can only teach peace by being peaceful.
Fairless Hills, PA (PRWEB) December 19, 2013
Licensed psychotherapist and parenting coach Robin Kevles-Necowitz proposes that effective parenting means showing children, by example, how to live a full, balanced life. She believes that as parents take responsibility for their own happiness and work to resolve their trigger issues, children are in a position to blossom into self-sufficient, confident, emotionally whole adults. If parents don't do the personal work, she suggests, children take on the unresolved issues of the parents and mimic an unbalanced, often unhappy life.
Kevles-Necowitz shares her unique parent-first philosophy in her new book: Go Take a Bath! A Powerful Self-Care Approach to Extraordinary Parenting (LARZ Publishing, November 2013), which has already been garnering rave reviews.
In the current kid's-first climate, Kevles-Necowitz suggests parents are setting their kids up for a lifetime of anxiety as they send them into the world feeling inadequate and ill-prepared. She believes that parents who do the emotional work necessary to fulfill their own needs, and who don't build their lives full-time around their children, are more balanced, happier people. Balanced, happier parents create balanced, happier kids. She also believes that parents must stop trying to fix all the day-to-day dramas that arise in a child's life. Instead, she encourages parents to back off and trust that children can work out many of their stressors on their own. It is the parents' job, she says, to manage their own anxiety as children manage their own lives. One of the many ways parents can do this, she suggests, is to take the book's titular advice: When parents find themselves getting angry or about to micromanage their child's life, they should go take a bath.
Robin M. Kevles-Necowitz has been in private practice working with parents for nearly 25 years. Kevles-Necowitz has been published in numerous periodicals, including The Philadelphia Inquirer and The Bucks County Courier Times. She is also a frequent contributor on B101 radio in Philadelphia.
For more information, visit http://www.parentassist.net or e-mail Robin(at)ParentAssist(dot)net.
Contact: Robin M. Kevles-Necowitz, LPC
Email: Robin(at)Parentassist(dot)net
http://www.amazon.com/Take-Bath-Self-Care-Extraordinary-Parenting/dp/0615896502/ref=sr_1_2?ie=UTF8&qid=1384020514&sr=8-2&keywords=go+take+a+bath