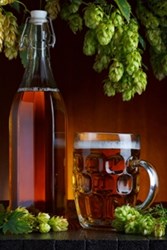 "Winter designs help differentiate beer labels from year-round offerings consumers are used to seeing on store shelves," said AnneMarie Campbell, Business Development Manager at Lightning Labels.
Denver, CO (PRWEB) December 17, 2013
Lightning Labels, leader in printing custom labels and stickers, is helping craft brewers and other small breweries make the most of the cold weather with winter beer label ideas. When designing custom beer labels that will attract consumers on their way to a holiday party or looking for a beverage to enjoy when they spend a quiet evening at home, there are a lot of considerations to keep in mind.
"Winter designs help differentiate beer labels from year-round offerings consumers are used to seeing on store shelves," said AnneMarie Campbell, Business Development Manager at Lightning Labels. "Many people's drinking habits change during this time of year, and they like seeking out seasonal ales, porters and other brews. To grab shoppers' attention, it's a good idea to emphasize winter themes in label designs. Lightning Labels has high-quality beer labeling solutions and speedy service to help beer makers create festive, eye-catching labels."
Certain beers tend to be more popular during the winter months. Many consumers tend to choose malt-heavy styles and have less of an appetite for light, hop-centric beers this time of year. In addition, high-alcohol content for so-called "winter warmers" can be a good selling point. Holiday themed beer and those geared toward winter tastes are popular this time of year. Lightning Labels can help brewers of all kinds highlight their beer's finest qualities with these three winter beer label ideas:
1. Design Your Own Winter Beer Labels with Seasonal Imagery
Strive to be unique when you design your own winter beer labels. The craft beer aisle is full of innovative designs. Winter imagery alerts consumers to the seasonality of a beer, making them more likely to purchase it. It's a good idea to make sure the branding on the bottle is still recognizable, but breweries can consider changing up the colors, using blues, purples and whites. Snowy landscapes or cozy indoor scenes are appealing to seasonally minded consumers.
2. Create a Seasonal Beer Label that Demonstrates Quality
Brewers can also include information about quality or unique ingredients on their seasonal beer labels. In general, small brew connoisseurs are interested in quality. These consumers value the craft of brewing, as the name of the industry implies. It's important to include the kind of information beer lovers are looking for when creating a label. First, manufacturers should be sure to include the style of beer in the bottle. Is the product a pale ale or porter? What hop and malt varieties were used and in what country did the style originate? Are there any special ingredients? Craft beer drinkers often look for descriptive tasting notes to further inform their choices. Breweries can even utilize a wrap-around label or a secondary one around the neck of the bottle to add information that won't fit in the primary label space.
3. Provide Ideas for Pairings on Beer Labels
The six pack or liter bottle a consumer just picked off the shelf is often on its way to a social gathering where food will be present. Try including food pairing suggestions on winter beer labels. For example, hops tend to taste good with smoky and spicy flavors, while malty notes go especially well with chocolate and coffee flavors. Beer makers can further demonstrate their industry knowledge by informing consumers of the best glassware to use to bring out the flavors in the beer. Using small graphic icons rather than text is a unique way to include this information.
No matter what breweries decide to include on their winter beer labels, Lightning Labels offers a variety of customizable options for attractive and affordable beer bottle labels. Through December 23, 2013, Lightning Labels will offer 15 percent off any label order, using promo code HOLIDAY13 at checkout. During this Holiday Savings Event, all those who place an order will be automatically entered to win a $500 gift card. Maximum discount is $1,000. Free ground shipping is valid through 12/31/13 and applies to orders shipped only within the U.S. and Canada. This offer cannot be combined with any other offers or promotion. Visit Lightning Labels for more information or updated promotions.
About Lightning Labels:
Lightning Labels uses state-of-the-art printing technology to provide affordable, full-color custom labels and custom stickers of all shapes and sizes, and now offers a full line of custom packaging products. From small orders for individuals, to the bulk needs of big businesses, Lightning Labels is equipped to handle and fulfill sticker, label and product packaging projects of all types. Best of all, like the name implies, Lightning Labels provides a quick turnaround to every customers' labeling and product packaging needs. Uses for Lightning Labels' custom product labels and custom stickers include food packaging and organic food labels, wine and beverage labels, bath and body labels, and nutraceutical products, such as vitamins, essentials oils, and herbal remedies, as well as event stickers, adhesive window stickers and more. Lightning Labels strongly supports the development of environmentally friendly printing materials and carries EarthFirst PLA, a new kind of green label material made from corn instead of petroleum. While operating as a high-tech printer, Lighting Labels prides itself on its personalized customer service. Lightning Labels provides one stop shopping for all of your label and product packaging needs. For more information and to place orders online, visit LightningLabels.com. For the latest in packaging news and labeling promotional offers, find Lightning Labels on Pinterest, Twitter (@LightningLabels), Facebook, Google+ and LinkedIn.