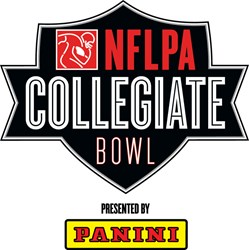 The NFLPA Collegiate Bowl and the events leading up to the game create a meaningful platform for us to engage tomorrow's NFL players and to start developing long-lasting relationships with them that will benefit us well into the future.
Irving, Texas (PRWEB) December 16, 2013
The NFL Players Association announced today that Panini America, the world's largest sports and entertainment collectibles company, will serve as the presenting sponsor of the 2014 NFLPA Collegiate Bowl. The third annual NFLPA showcase features some of the top draft-eligible talent in the country. The event will receive more than ten hours of coverage across ESPN platforms, culminating with the live broadcast of the game on ESPN2, which kicks off Saturday, January 18 at 6:00pm EST from the StubHub Center in Carson, CA.
"The NFLPA Collegiate Bowl and the events leading up to the game create a meaningful platform for us to engage tomorrow's NFL players and to start developing long-lasting relationships with them that will benefit our trading cards and collectibles well into the future," said Panini America CEO Mark Warsop.
As part of its presenting sponsorship, Panini America will be fully integrated into the week-long events leading up to the game as well as all marketing, advertising, and social media activations. As part of the presenting sponsorship, Panini will also receive:

Full category exclusivity and integrated enhancements during televised practice sessions on ESPNU and game telecast on ESPN2.
In-Game Branding and Activations including all venue signage, sponsor logo on team jerseys and the playing surface and on-field awards presentation.
Player / Coach Engagement and exclusive content capture for Panini's media channels
VIP Hospitality and Access
In addition, Panini and the NFLPA are planning marketing efforts as part of their ongoing partnership that will be announced closer to the NFLPA Collegiate Bowl.
"We are thrilled to have Panini on board for the NFLPA Collegiate Bowl," said Keith Gordon, President of NFL Players, Inc. "Panini strives to create meaningful engagement with the most talented athletes in the world, and this opportunity enables them to reach those on the cusp of becoming NFL Players. This partnership puts Panini in the best position to build those relationships, and have an immediate impact on their business."
Panini America is the only company in the world that manufactures licensed trading cards and stickers for the NBA, NFL, NFLPA, NHL, NHLPA, MLBPA and FIFA World Cup. The company also has exclusive relationships with USA Baseball, USA Basketball and the U.S. Soccer Women's National Team and Pop Warner. In addition Panini also has relationships with the Naismith Memorial Basketball Hall of Fame, The Pro Football Hall of Fame and the National Baseball Hall of Fame and owns exclusive entertainment licenses with Disney, One Direction, Justin Bieber and Michael Jackson, and more than 600 global licenses with other sports and entertainment properties.
ABOUT NFLPA:
Established in 1956, the National Football League Players Association (NFLPA) is a non-profit, professional sports union. The NFLPA represents all NFL players in matters concerning wages, hours and working conditions and protects their rights as professional football players; ensures that the terms of the Collective Bargaining Agreement are met; negotiates and monitors retirement and insurance benefits; provides other member services and activities; provides assistance to charitable and community organizations; and enhances and defends the image of players and their profession, on and off the field. For more information, visit http://www.NFLPlayers.com.
ABOUT PANINI:
The Panini Group, established almost 50 years ago in Modena, Italy, has subsidiaries throughout Europe, Latin America and the United States. Panini is the world leader in officially licensed collectibles and is the most significant publisher of collectibles in the U.S., with official licenses for MLBPA, NBA, NFL, NHL, FIFA, USA Baseball, Disney, Nickelodeon, Warner Bros. and other key properties from many other licensors. Panini has distribution channels in more than 100 countries and employs a staff of over 800. For more information visit us at http://www.paniniamerica.net, http://www.paninigroup.com or http://www.paniniamerica.wordpress.com. You can also follow Panini America on social media platforms Facebook, Twitter and on YouTube.
Media Contact:
Tracy Hackler, Panini America
817-662-5325
thackler(at)paniniamerica(dot)net
Carl Francis, NFLPA
Carl.Francis(at)nflplayers(dot)com