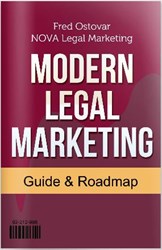 This guide will teach you several effective methods for marketing your law firm, emphasizing resource efficiency with a key focus on the business factors that are unique to your specific legal practice
Fairfax, Virginia (PRWEB) December 17, 2013
On October 4, 2013 NOVA Legal Marketing presented a CLE course on Ethics of Legal Marketing, where they discussed the changing ethical landscape, covering Virginia's new legal advertising rules and the trends that are emerging from the American Bar Association and other top legal players.
This program was a part of the Young Lawyers Conference's Professional Development Series for Virginia State Bar. NOVA Legal Marketing has compiled all the material that was covered in this course along with additional important information that is critical to the success of any law firm into the Modern Legal Marketing Guide.
This guide teaches several effective methods for marketing a modern law firm, emphasizing resource efficiency with a key focus on the business factors that are unique to a variety of specific legal practices. This guide also aims to help attorneys refresh the way they look at the business side of running a law firm while staying within the ethical boundaries set forth by American Bar Association and the state they practice in.
This guide outlines several marketing methods that rely on new technologies like search engines, social networks, and digital video. But this is not the primary reason for calling it the "Modern Marketing" guide. What is modern is a method of operating your practice that is very new to most of the folks reading this, it's a frame of mind more than the marketing tools themselves. This philosophy's central theme is that you have to start living your life, the way you desire to live it, right now.
"Thank you for all the hard work you have put in for the YLC this past year and for your presentation. You provided the best explanation of the tools a lawyer has at their disposal. Similarly, you also are able to provide a guide in an area where lawyers are not comfortable, which is advertising. I am also impressed with your Guide to Legal Marketing. Exceptional Work!
Best,
Chris Fortier (5th District Representative)"
Order your own copy of the guide by visiting our guide request page.