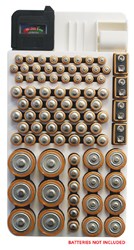 Lima, Ohio (PRWEB) December 17, 2013
Out with the old Battery Storage Organizer and in with the New. The existing popular rack went from holding approximately 65 batteries to the updated version of 82+ batteries offering over 25% more storage than before and a better battery fit.
Organize and store your batteries for convenient access while eliminating clutter in drawers. With the mounting option, the Battery Storage Organizer can easily be mounted almost anywhere in your home and garage.
Other functions include a specially designed swivel with gravity battery button drawer to accommodate the Battery Storage's position from lying flat in a drawer or being mounted on the wall, and a testing meter. The testing meter is conveniently located on the top and displays the remaining life of your battery. The testing meter is also removable and no batteries are required for meter. The battery meter is easy to operate by testing AAA, AA, C, D…button batteries on the left side of the meter and 9V batteries can attach to the right side of the meter. The Battery Storage Organizer holds: Twenty-five Triple A (AAA) Batteries, Thirty-nine Double A (AA) Batteries, Four 9 Volt (9V) Batteries, Eight C Batteries, Six D Batteries and up to Five Button Batteries, depending on the batteries style.
For more information regarding aRange Organization by Design products, please go to http://www.rangekleen.co.
About Range Kleen Mfg., Inc.
Range Kleen Manufacturing, Inc. is a Lima, OH based company manufacturing household products sold to major retail chains globally and has been taking care of the customer (TCOTC) since 1971. Its product Divisions include: Original Equipment Manufacturing Quality (OEM) replacement drip pans for ranges & stoves; Non-stick Metal Bakeware; Kitchen Decorative products specializing in exclusive licensed designs; Storage, Organization, insulated food and beverage bottles and household cleaning supplies. Range Kleen Introduced their own line of cookware- Stainless Steel and Enameled Cast Iron as well as pot racks in 2007. Effective December 21, 2009, Range Kleen Manufacturing was pleased to announce the partnership with Berndes Cookware USA and has taken the lead of all sales, marketing and shipping of Berndes Cookware USA from their International Headquarters in Lima, Ohio.