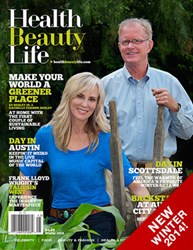 This is the first issue to be available through these national retailers.
Oceanside, CA (PRWEB) December 18, 2013
Health Beauty Life Media, the rising star of interactive media, is proud to announce that the winter issue of Health Beauty Life magazine is now available on newsstands.
This is the first issue available since expanding distribution of the quarterly lifestyle publication, which has been in production since 2010. In addition to distribution to high-end salons, medical practitioners and through select Whole Foods outlets, the winter issue of Health Beauty Life magazine is also available at Kroger supermarkets, Barnes & Noble, and Books-A-Million retailers nationwide. This glossy, 100-page publication retails in all outlets for $4.99.
Kroger, one of the world's largest retailers, employs 343,000 associates who serve customers in 2,418 supermarkets and multi-department stores in 31 states under two dozen local banner names including Kroger, City Market, Dillons, Jay C, Food 4 Less, Fred Meyer, Fry's, King Soopers, QFC, Ralphs and Smith's.
Barnes & Noble currently operates 674 bookstores in 50 states and the District of Columbia with an additional 692 college bookstores at colleges and universities across the United States.
Books-A-Million is the second largest book retailer in the nation with over 250 stores in 31 states and the District of Columbia.
About Patrick Dockry
Publisher, Executive Producer and Host, Patrick Dockry oversees the growing brand of Health Beauty Life, with media outlets including print, online and television.
About Health Beauty Life
Health Beauty Life magazine explores trends in celebrity, food, beauty & fashion, health & fitness, travel, and lifestyle. Each quarterly issue includes a signature mix of exclusive interviews, noteworthy lifestyle explorations, healthy cuisine, beauty tips, and getaway destinations.
Health Beauty Life magazine is nationally distributed in print with interactive QR coded articles and available globally through HealthBeautyLife.com.
Health Beauty Life TV is a nationally broadcast 13-episode series showcased to 90 million households on WEtv Saturdays at 9:30 am EST/PST, 8:30 am CST and to 32 million households on TuffTV on Saturdays at 9:00 pm PST/6:00 PM EST. Visit HealthBeautyLife.com or check your local TV listings for times and channels. Season Three of Health Beauty Life with Patrick Dockry will begin airing in January 2014.
For more information about Health Beauty Life magazine or Health Beauty Life TV, please visit HealthBeautyLife.com.
###